We are all looking for recommendations when we travel. Either to experience the sense of local, or to avoid cons. Searching for the famous flags we talked about in our previous post can be a solution for that. This does not only apply to foreign tourists, but to local ones, too. And that is what I ended up doing on a sunny day of an early Spring. I was still thinking about the beautiful lunch all about fish I had in Porto Sant'Elpidio, when I suddenly bumped into this famous (for us Italians, at least) road sign. I was entering a territory recognized as one of the most beautiful villages in Italy (namely Borghi più belli d'Italia).
My sense of travel blogger to be guided me through the tiny streets of Montecosaro, a cute village in Macerata area. I discovered quite soon that Montecosaro is the birth place of a famous dramatic soprano: Anita Cerquetti. She had a very short career, but intense: she sang all over Italy, as Aida, or Abigaille in Nabucco and she once replaced Maria Callas in Norma. I was just wandering around Montecosaro, when I started hearing someone rehearsing.
It was just perfect! Near the theatre, some opera singers were singing for the Opera Festival that was about to start, and even if I was just outside a door, it was magic, as if Anita Cerquetti's world had just welcomed me in Montecosaro.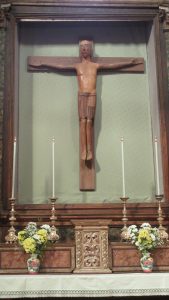 The city centre's wall from 1300 protect the rich buildings, among which there are many churches:
Chiesa Sant'Agostino, Chiesa San Rocco and Collegiata, where the wooden Crucifix dates back to the pre-Giotto representations of 1100.  The skyline is recognizable from far away: there are two towers stood out from the centre, the Torre Civica and the bell towers.
What really captures my attention, besides the opera singer, was the amazing 180° view from the Cassero park, that was built on the rare funds of a castle. This is where I really found the evidence of the "Italy in a region" motto. From left to right, you can spot Gran Sasso mountains, and the Sibillini mountains (a portion of the Appennines), the Chienti valley, with typical cultivated land among vivid green hills, little villages and sporadic houses, the Monte Conero on the background, and finally the Adriatic Sea.
As many villages in our region, also Montecosaro has its own typical dish: cicerù, a pastry stuffed with a puree of chickpea and must (from wine), and frascarelli, a polenta made from wheat flour prepared in various ways, the tastiest of which provides a sauce of sautéed sausages, tomatoes and pork belly.
At the end of the day, I was really surprised by what a simple lunch out turned out to be! Get accustomed to that, because Le Marche is the perfect region to experience this!
For some good opera music played by Anita Cerquetti, listen to her performance in Aida: https://www.youtube.com/watch?v=KYlML0EbdjY