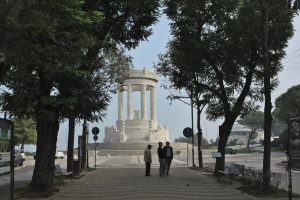 Imagine to stroll down in a viale, boulevard right in a city centre, let's say Ancona. And then feel suddenly like to sunbathe or swim into deep blue water. What would you do? Exactly what you're looking forward to do! In Ancona, at least, you definitely can.  In the area around the Passetto Monument, there is a whole staircase system to the sea and the rocky beach. As soon as the good weather starts, the Anconitans sunbathe here on the wide armrests or descend to the rocks. Those with limited mobility can always take the elevator from April 25th, a huge structure that is managed by the city's bus line service. To take that elevator, buy a bus ticket of 1 euro at the tabacchi or at the elevator itself. This allows you to go down and back up. From here you can also enjoy a beautiful panorama of the stairs and the monument. The Monument was built under Mussolini time and, together with the staircase, it has an eagle-shape if it is seen from the sea. A really majestic monument, in an unusual position.
Indeed, once down, you notice that here is the starting point of the cliffy beach of Monte Conero, of whom we have already blogged about. The beach here is beautifully coloured: behind those doors fishermen used to keep their boats (some do it still), and became their booth houses. Nowadays, besides fishermen, mainly Anconitan used them as beach hut, and since they look like grotte, cave, Anconitan that own them are usually called grottaroli. They are quite a lot, around 500, most of which are also equipped with a kitchen.
Along the beach you can also sunbathe, but don't count much on privacy; it's better to continue walking until you reach a big rock in the water, la Seggiola del Papa, the seat of the Pope. Here you can find a nice spot on the rocks or simply climb over the stones until you have found your place.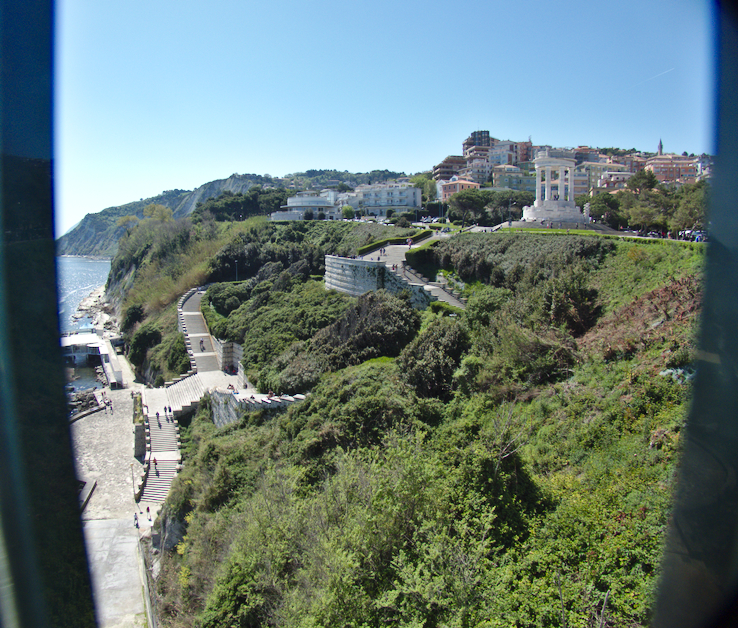 And when tummies start to tremble, feel free to have your picnic with you, or try delicious fresh fish at the restaurant la Luna al Passetto, with a beautiful view over the Adriatic Sea. Open every day from June to September, from October to May only on Sundays.
There are free parkings in Ancona: at the Dom or at the former fiera. Otherwise it is paying parking except on Sundays.