It was November 18, 1917. That day there was a violent storm on the Adriatic coast. The villagers from the fishing village of Marotta were shocked to see how the warship of the Italian navy Capellini lost the battle against the harsh conditions: the ship eventually turned over in Falconara and only 4 crew members survived. But Capellini was not the only ship at sea: there was a second one, the Faà di Bruno, which also desperately tried to defy the rough sea.

Because of the war, only elderly people, women and children lived in Marotta (between Fano and Senigallia), since the men all fought at the front in northern Italy. The Italian army had just suffered a severe defeat in Caporetto and, as a precaution, the navy moved its fleet from Venice to Ancona.

11 young girls heard the cry for help and saw the waving flags and they hesitated no longer: they gathered all kinds of provisions, water and medicine, jumped in a rowing boat and bravely rowed with all their strength towards the warship. After all, they were all daughters of fishermen who grew up experiencing the secrets of the sea. Somehow, they managed to get to the ship and even to get on board. There they were of course received as heroines by the captain Ildebrando Goiran and his crew.

However, Erina Simoncelli understood that something still had to be done, she jumped into the cold water and managed to swim the ropes to the beach. Here they could attach it so that the ship could no longer float away.

Such a heroic act will be rewarded after the war; all girls received the Bronze Military medal from the Military Navy on 24/8/1919. Erina would even marry the first mate and emigrate to Argentina, where she died.

On 18/11/1967, 50 years after this heroic act, the municipality unveiled a beautiful memorial stone. Where the then mayor from Rome gave permission to put the Roman symbol of the she-wolf and Remus and Romulus on the memorial stone.

But of course the names of the 11 girls are also mentioned, 5 of them were even sisters and cousins.

In 1987 the stone moved to Fano, where a few years later it disappeared in the municipal depot. In 2007 they discovered it by accident and moved it to Mondolfo's municipal warehouse, to return in 2011 to Marotta at the beach.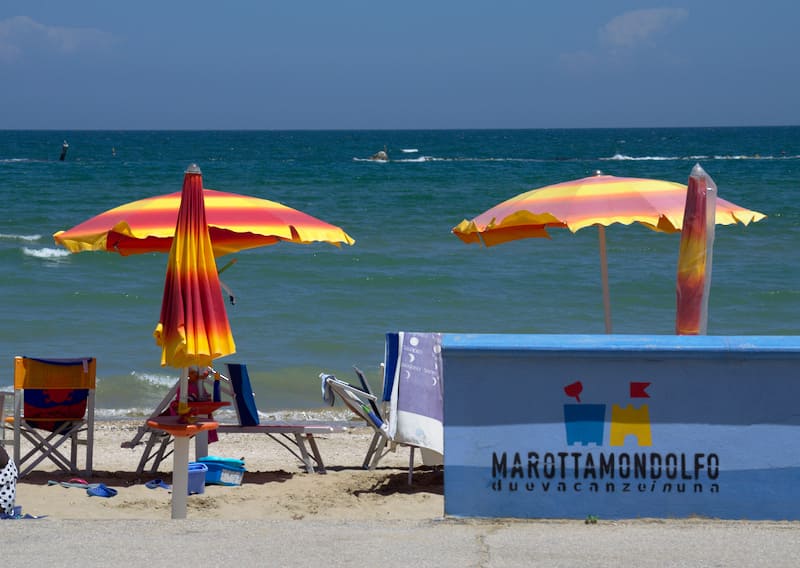 Marotta is now a cozy seaside town that we described in our Photowalk last year.