What I LOVE about the Marche is that, not only we have the whole Italy in one region, but also that we can boast the best of each part of it. Let's talk about the beaches, for example.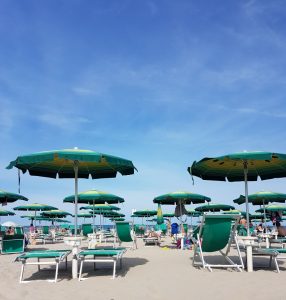 We can offer every kind of beaches you can think of, both for families, solo travellers, adventurers and much more. Of course the fact that the coastline is about 170 km long helps a lot, but the great effort also comes from the hard work of the people working on the bagni. Bagno is a tricky word in Italian, it can either mean "bathroom" or " beach resort".
On the bagni you can rent beach chairs and umbrellas and enjoy the amenities such as changing rooms, showers, toilets, children's play equipment for the little ones and often a beach bar for the adults. The Bagnino, the lifeguard, takes care of everything from the rental of sunbeds and umbrellas to the back cream of single elderly women. Often the families have a favourite Bagno, to which they return each year, and "where they know each other."
The Bagni differ from the "free beach" where the beach is nevertheless well maintained. In winter, excavators push the precious sand aside to protect it from erosion by wind and water.  Before the season starts (which is usually at the end of May), the sand is pushed back into place and the special machines make it fine and fair. This procedure makes, for example, the beach in Senigallia worldwide famous, and gives it the name "velvet beach".
But we cannot only mention the sandy beaches. From the north of the region to the south, you can also find rocky cliffs, small rocky bays, palm-covered beaches and crystal clear waters.
17 of the marchigian beach resorts have been awarded the "Blue Flag" in 2019, which puts the Marche behind Tuscany and Liguria in third place in Italy. The blue flag is an international environmental label for beaches, which is re-examined and awarded every year on the basis of defined standards.
From Gabicce Mare in the north, to Portovo, Marcelli, Numana in the centre, to San Benedetto, Porto San Giorgio and Porto Recanati in the south, you have plenty of choice for your next summer holiday!