Are there horseback riding facilities in Le Marche?
Visit to Agriturismo Colle del Lupo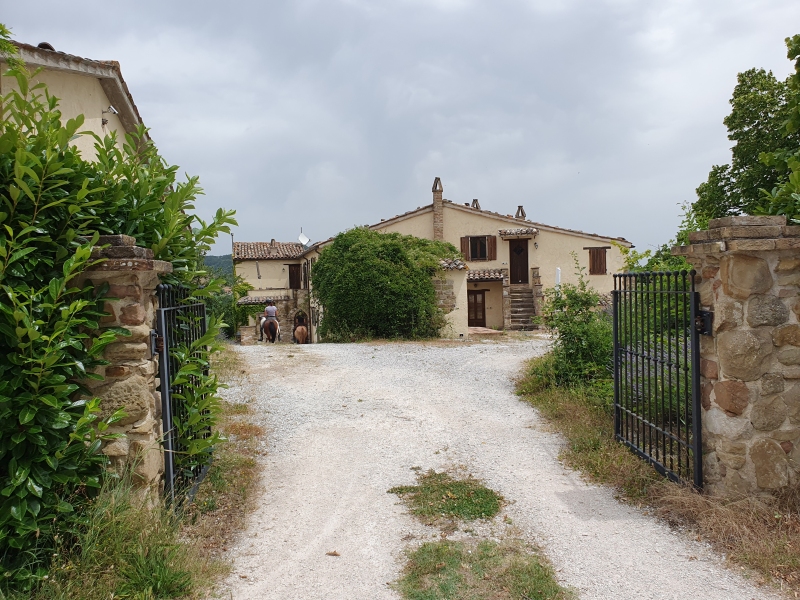 Icelandic horses – reliable and robust
Here she first explains to us what her passion for Icelandic horses is all about, which she also breeds herself: They are extremely robust and reliable horses that can be ridden well and safely in the terrain of the Marchigian hills. To our astonishment we learn that Icelandic horses come in all sorts of colors.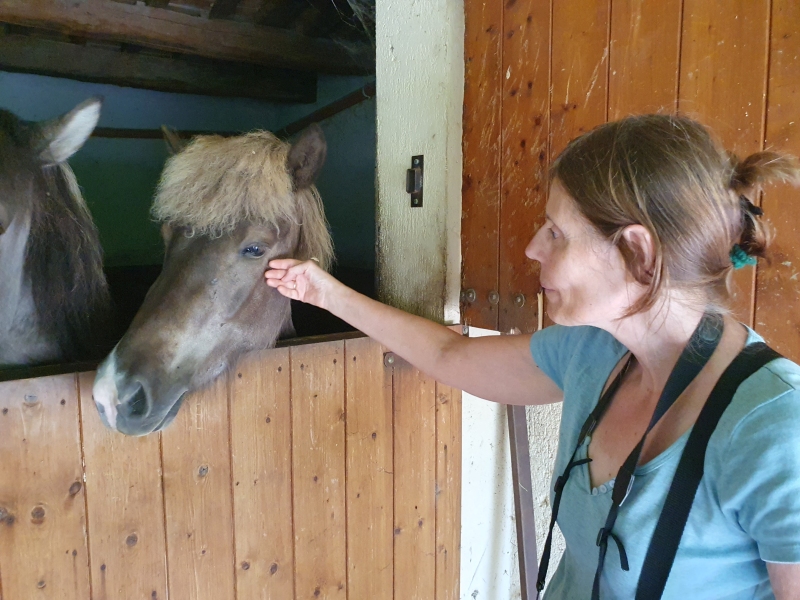 And that what is special are their 5 natural gaits: because in addition to the walk, trot and canter, these animals can also do tölt and amble. It's genetic, says Dorothea, because they show this ability by themselves when they are out on the pasture as young animals. She gives her animals enough time before they are trained: they are only ridden when they are 5 years old; before that they can enjoy their horse childhood and youth.
Horses and riders should be fine!
In general, she prefers the gentle handling of the four-legged friends: Jumping is just as little on the program as the strong tying of the horse in the harness or the military drill. Instead, she relies on relaxed horseback riding.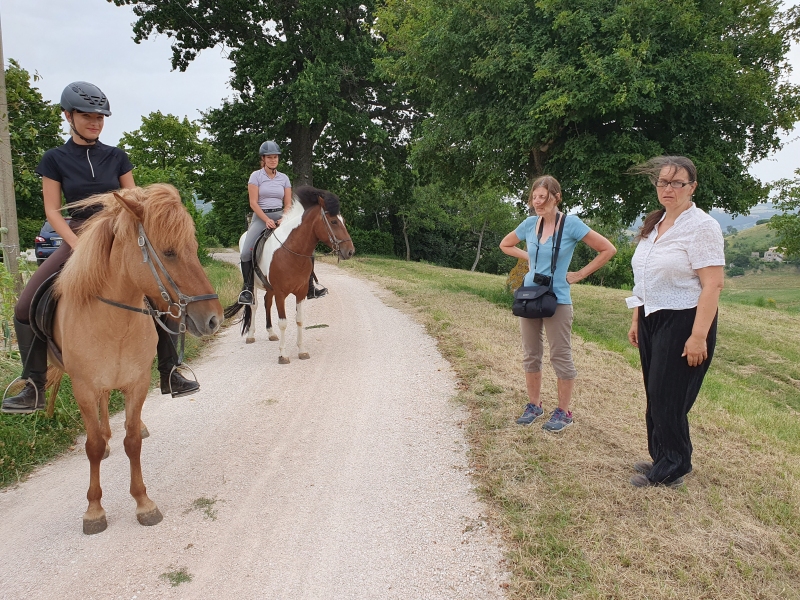 However, the riders have to be ready for this: Inexperienced people are not allowed to ride out at first, because they would not only endanger themselves, but also put excessive strain on the animals. Anyone who has learned to ride, on the other hand, knows how to support and relieve the horses in the field. Therefore, in addition to trail riding excursions, she also offers riding lessons, for example special courses for children. You can find Dorothea's extensive range on the Reiten in Italien website – I think there's something for everyone. Here is a film of the agriturismo with its 3 holiday apartments, in which you can also clearly see the unique location and the view of the farm.
We ask whether it isn't too warm for the Scandinavian Icelandic horses in Italy. They even get along quite well, says Dorothea, because they naturally have a light summer coat for the warm days and have quickly adapted to such an extent that they only wear their winter coat here for a short time. Only in August, she says, does she not offer any rides, even if the demand is there: that would be too much torture for the animals as well as for the riders. You have to put common sense over profit thinking.
How Dorothea came to the Colle del Lupo
Dorothea had previously owned a horse farm in Bavaria and ended up in Le Marche rather by accident: she was actually looking for a larger farm in Bavaria and on the real estate portal an ad from Italian Marche slipped in between. It should still take some time before Dorothea's family and the "Colle del Lupo" estate came together, but 5 years ago it was something like providence, says Dorothea's husband Alex (who, as he says, doesn't usually believe in such things ).
The first 2 years they were busy with setting up and obtaining permits and then when it was supposed to really start – Corona came! So Dorothea switched to breeding, which is why we were able to marvel at two lively, sweet foals in the stable.
Now the riding business has started and Dorothea is very satisfied: The original bureaucratic obstacles that made it difficult to offer overnight stays on horseback hikes lasting several days have now been cleared by the Regione Marche, so that borse horse & rider can also stay overnight at other agriturismos. Well done Regione Marche!
Laura and Elisa, two "Work and Travel" interns, are also on site during our visit. They help out in the Colle del Lupo and show us two of the Icelanders on horseback. The two already have some riding experience and one of them even owns a horse back home in Germany. They really like the rides in Le Marche: the landscape is simply great and there is very little traffic, so it is very relaxed here, they say.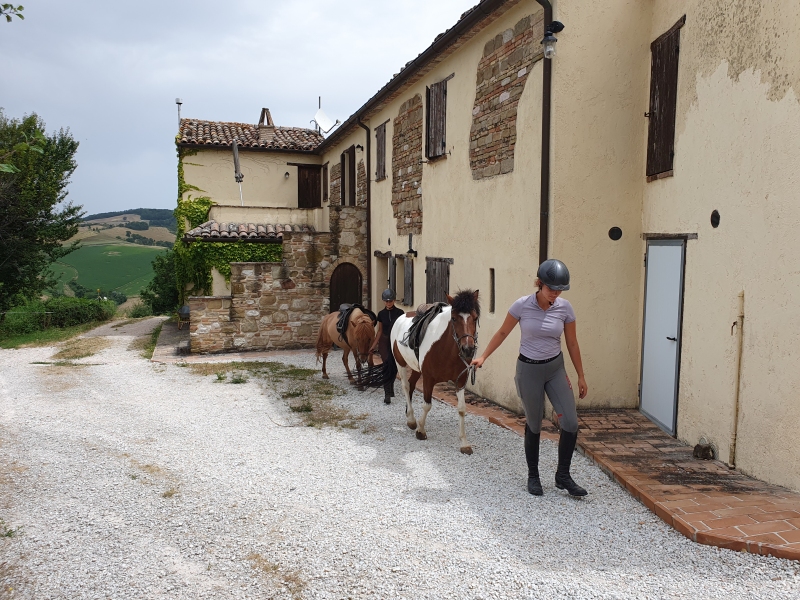 Not just riding and horses!
By the way, anyone who has nothing to do with horseback riding is also welcome at the Agriturismo Colle del Lupo: only about half of the guests come for horseback riding. The other half enjoys the quiet location, the terrace and the pool with a view, the excursions or the wonderful starry sky, which is easy to see on clear days due to the secluded location. Alex, a passionate astronomer, then puts out the telescope and explains the sky to interested guests. But more on that in another article!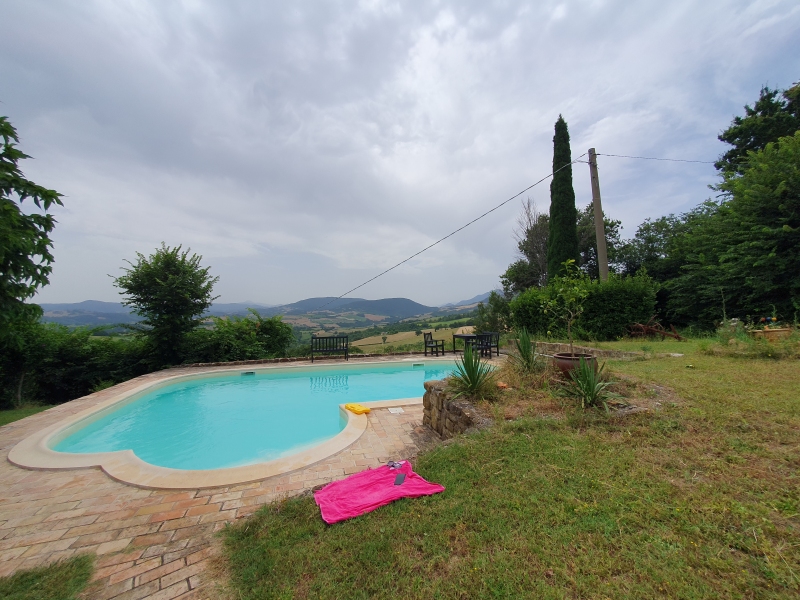 Other riding opportunities in the Marche:
In addition to Dorothea's farm, there are still a few riding opportunities in the Marche – if you search for the keywords "riding" and "Region Marche" you will find them.
I personally tried Gaucho at Pian dell'Elmo on Monte San Vicino. It was my very first time on a horse, and I really enjoyed the 1 hour long walk I had with my horse Linda.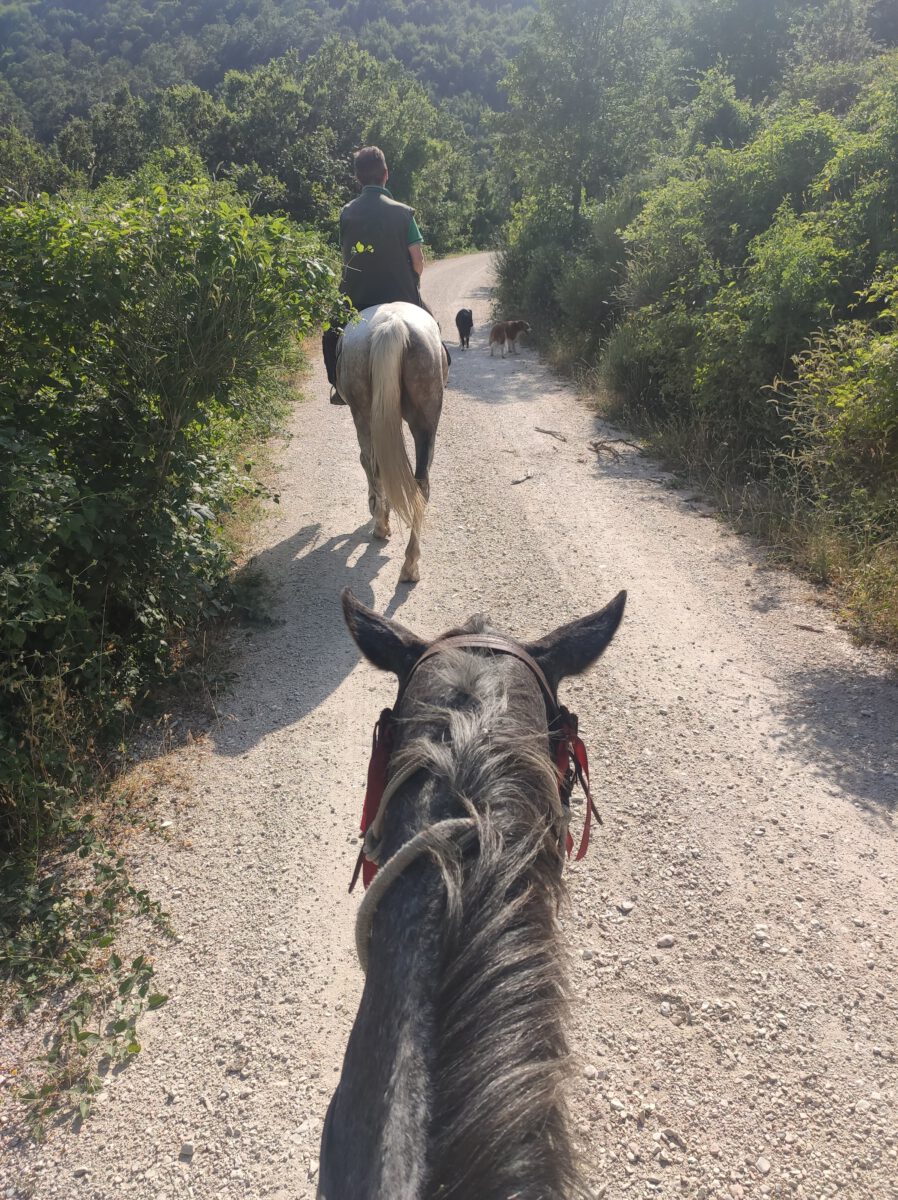 Here are just a few examples – not checked by us: