Last year we introduced you to the magic world of presepe, may it be made by wooden figures or live. We talked about it in this post: https://eccolemarche.eu/blog/2018/12/27/the-art-of-presepe-in-jesi-the-special-tribute-to-le-marche/
The peculiarity in Italy, and in le Marche, is that the nativity scene is not only displayed in private homes, but also as a live play in the main squares. This tradition comes from San Francesco, whose first representation of the nativity was set in Greggio in 1223. This is also the reason why we can't talk thoroughly about the art of presepe in only one post.
In 2019 it is time to talk about the "living" nativity scene. We chose one representation that takes place in Precicchie, an old castle situated on top of a rock, overlooking the valley below.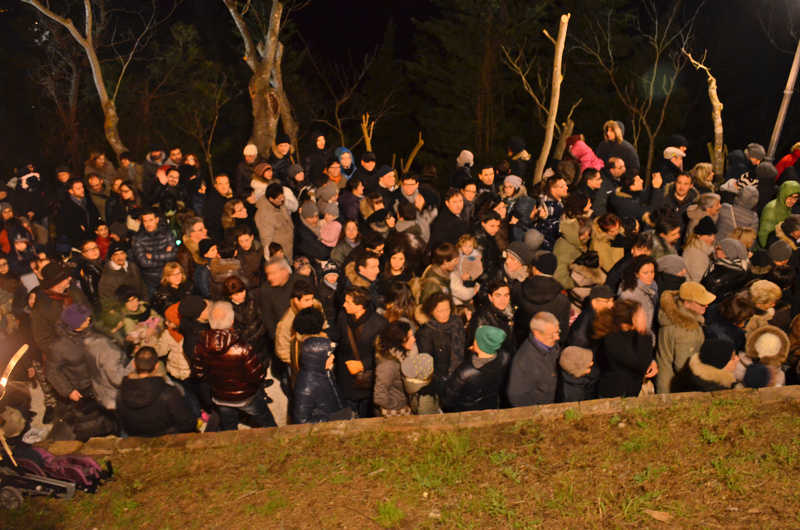 Due to its height, I would recommend to go very early in the afternoon, if you don't want to freeze outside, while waiting to enter. The Nativity Scene represented here is, indeed, one of the most famous in the Ancona area. Maybe it is its position, or the structure of the old castle; but the atmosphere is unique.
The "extras" that play the roles that are usually designed for wooden figures in the "traditional" presepe, sometimes have to cope with the cold weather while working with the wool, the wood or other material. The actors are usually local people that enjoy helping the community and would like to create the magic atmosphere of the nativity scene for some nights.
In Le Marche there are many places, old castles or villages, that turn themselves into perfect theatres during the Christmas time. Usually, the representations run on December 26th, and January 6th, but it depends on the organisation itself. In Precicchie the entrance is upon offer, since the work is all volountarily.
Precicchie has something very special, in my opinion. The lone position on top of a rock and the crowd that starts to gather already at 2pm, the darkness and the light from the candles, the cold and the warmth coming from the mulled wine.. it all helps to create a beautiful experience that enhance the Christmas magic.