In almost every market in Le Marche there is a stall selling stockfish and baccalà. I am not very fond of the stockfish (and I even spent 2 years and a half in Norway!) but it is a real regional specialty here. Even though…all the fish comes from the Scandinavian countries. How did the stockfish come to Italy and even become a trademark in the marchigian provincial capital Ancona?
Elke did some research and discovered that the tradition goes back to 1431, when the Venetian merchant Pietro Querini sailed from Crete to Flanders to deliver wine. There he got caught in a terrible storm, drifted off and wrecked off the Norwegian Lofoten archipelago. The crew had to stay there until spring before they could set sail again. So they got to know the food of the locals, including the stockfish. On their return to the rich Venice they had loaded from the stockfish, which was completely unknown to the Venetians and which soon conquered the local cuisine. Stockfish is now popular in many areas of the Mediterranean, but especially in Italy, where around 90% of Norway's stockfish exports go (as I learned about fishing in an exhibition in Norway). As a result, stockfish was often loaded by the Italian merchant ships returning from Scandinavia, because firstly, it was good, long-lasting and vitamin-rich food for the seafarers and, secondly, they had cargo and goods for the return voyage.
But what exactly is stockfish? Stockfish (Italian "stoccafisso") is basically dried cod, also called cod. It is caught off Norway in spring, air-dried outside for several weeks and then takes on a slightly salty taste from the sea air.
Of course, it needs to be soaked for several days before use.
Since it contains a lot of vitamins B and D, calcium and iron and at the same time hardly any fat or carbohydrates, it is very healthy in itself. I say "in itself" because in Ancona it is very tasty prepared with lots of olive oil and potatoes and, ecco, you have the carbohydrates and the fat! Incidentally, it is also consumed in Le Marche during Lent, as it is meat-free, but very substantial food.

Stoccafisso all'anconetana
No wonder that Ancona, as a large Italian port city, integrated stockfish into the local cuisine at an early stage. Quite a few restaurants boast about the specialty or hang out signs reading "oggi stoccafisso" (today stockfish) on the days they offer it.
Elke met some of the activists of the "Accademia dello Stoccafisso" group, founded in 1997, at a slow-food event in Ancona, but at some point she made the mistake of asking for "Baccalà", which is prepared in a similar way. And earned contemptuous looks …
What is then baccalà? In addition to the stockfish, you can often find the "baccalà" in Marchigian cuisine, which is also made from cod in Norway. The preparation is similar, the difference is that the baccalà first has to be salted and then only briefly dried in halls, while the stockfish dries in the air for weeks. The baccalà remains juicier and a little bit spicier. I have to admit, I don't like stockfish, but love baccalà.
Elke has prepared it in the oven several times, based on a recipe from Cartoceto, the place where the most famous Marchigian olive oil comes from and which hosts a Baccalà festival once a year (we have already talked about the place and its Oil in a previous post). That's actually the main trick: you need excellent olive oil.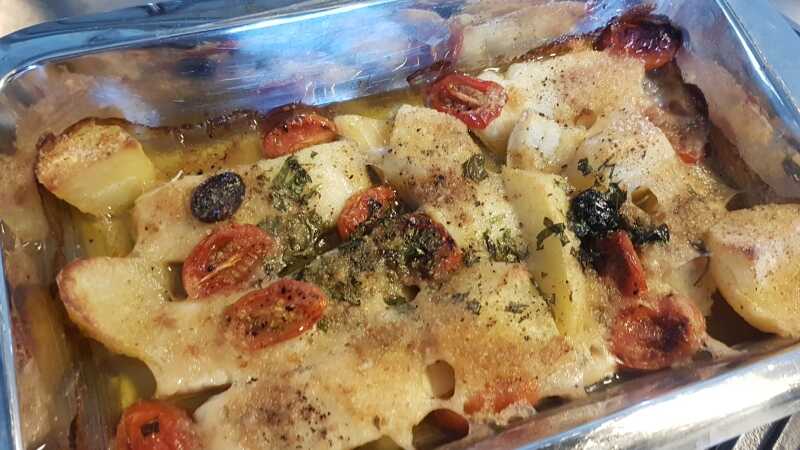 Baccalà with potatoes and tomatoes – very easy recipe!
You water the baccalà for one and a half to two days, changing the water twice a day. Then you put it on baking paper in an ovenproof dish, together with peeled, quartered potatoes, fresh tomato pieces, olives and a little rosemary, or parsley and garlic. Everything is peppered and salted (be careful, the baccalà itself is already salty) and plenty of good olive oil is poured over it. At the end, sprinkle the whole thing with some breadcrumbs and, depending on the temperature, put it in the oven for about 40-60 minutes. Buon Appetito!
Some tips on how and where you can try the Stoccafisso all'Anconetana: Stockfish (and baccalà) can be bought in most markets, in larger supermarkets and in fish shops, often even ready-to-use, ie. already watered and usable immediately
Several restaurants in the centre of Ancona regularly offer Stoccafisso all'Anconetana. The gourmets from the Slow Food Event recommended the Ristorante Gino opposite the Ancona train station. I couldn't understand that, because I found the whole atmosphere there musty and dusty and it smelled of sewer. That could be, they said, but without a doubt the best Stoccafisso all'Anconitana would be served there and in summer you could eat outside in the restaurant garden, it would be nice and not musty.
The "Gioacchini" shop in Ancona has specialized in stockfish and baccalà for over 100 years. Here you can buy various stockfish and baccalà dishes to take away, for example from the oven, pasta sauce with stockfish, stockfish balls, stockfish lasagne, etc. Ideal for those who want to try carefully first.
A few times a year the "Accademia Anconitana dello Stoccafisso" from Ancona organizes stockfish meals, often for charitable purposes, the next time on December 8th, 2020 at noon: 9 restaurants in Ancona then offer stockfish to take away for EUR 16-18 per person at: