Silver hearts, wooden crutches of all sizes, images of people about to die in an accident: this is the world of ex-votos, also known as votive offerings. This is how worshippers seek grace or pledge their thankfulness for a requested miracle, such as healing from a serious illness or being saved from a great calamity. Votive offerings have been known since antiquity, but they experienced a veritable boom in Christianity in the Baroque period. The offerings can be pictures, trinkets, or objects related to the miracle being asked for, such as the crutches of someone who has been healed of a leg injury, or a picture of a car accident that has survived. Many destinations of pilgramages include shrines or altars decorated with such ex-votos.
Fellow blogger Isabelle, who was fascinated by such votive offerings as a child when she went on pilgrimages with her parents to the Piedmontese town of Oropa in northern Italy, discovered with the Cupramontana Walking Group the pilgrimage church of La Madonna della Rosa (the Madonna of the rose) who possessed a particularly rich votive treasure.
This year, with her husband Erik, she set out to visit this church near Ostra again:
They parked outside of Ostra and followed the signs to the Madonna della Rosa on foot. The neoclassical building dates from the 18th century and was inaugurated in September 1755.
Until 1668 there was only a small chapel with a picture of a Madonna with a rose and a small spring in front of it. Every day people brought flowers to their beloved Madonna. In 1666, a stranger brought a white lily to the spring, which did not wither for months. Also at about this time, a young girl named Anna went to the chapel to pray for her terminally ill mother, Maria Catarina. After the prayers she took some water from the spring and gave it to her mother to drink, who was immediately healed. The news of these miracles spread like wildfire, with many people coming here specifically to offer their most urgent prayers. Those whose wishes had been granted made a votive gift to the Madonna.
Monetary donations were also received, so that the chapel could be expanded into a small church in 1668. A well was dug behind the altar, which was fed by the miraculous spring, which never dried up even in the greatest drought and has always kept a constant water level of 80 cm.
At least 139 miracles were subsequently recorded, which were caused by prayers to the Madonna, by the miraculous spring water or even by the oil from the oil lamp under the picture. Therefore, the Maria with child in the picture in 1726 was given a crown and later even 12 stars over her head. The church itself was elevated to a pilgrimage church.
The number of worshippers continued to grow, as did the number of votive offerings, so that in 1755 a new extension to the church was inaugurated. The original, small chapel has been fully integrated into the new church, with a frescoed dome and a golden frame surrounding the miraculous image.
If a small organ was installed in 1721, by 1782 there were already two organs.
In 1885 a bell tower was added.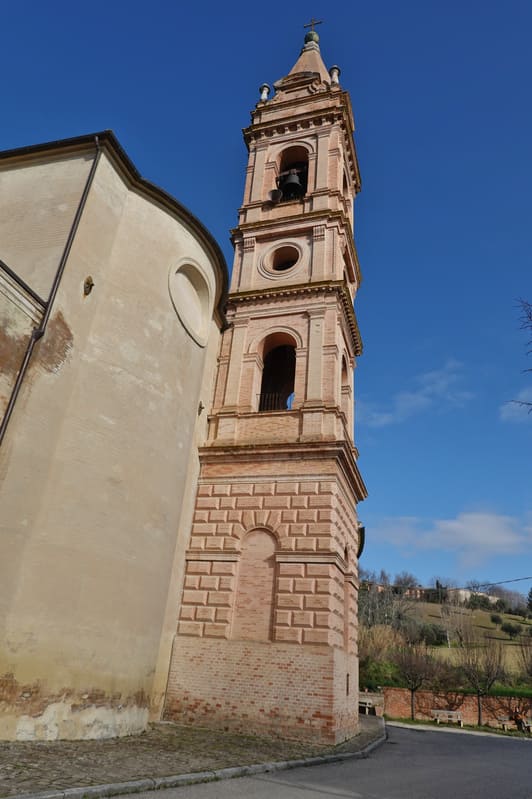 Even the facade has a statue of the Madonna.
In 1953, access to the miracle water was made easier by building a small fountain at the back of the church. However, the original well behind the altar survived under a cover.
One could spend a whole day there just looking at all the votive offerings, which often hide their own dramatic tales of suffering and misfortune, but thanks to prayers and miracles, ended well.