Just imagine entering the heart of a mountain, besides a Smaug dragon protecting a golden treasure, what would you see? "Mainly dark caves and sludgy puddles", you could answer.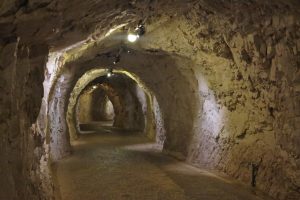 Well, Le Marche, as you should have learned so far, can offer everything but muddy puddles. I am talking about the stunning Frasassi Caves, unique example of caves with beautiful  mineral stalagmites and stalactites (which one is which?! I have always doubted on that). I think Frasassi Caves it's on "Things to do before I die"-list, because it's just amazing! Those mineral formations create strange statues and funny characters, and once you're inside a mountain's core, you lose every "normal" reference and turn yourself in a caves' explorer! Having a tourist guide is compulsory: if you'd like to have an English speaking one, you'd better book the tour in advance.
To be clear, actually there is a far, far, far relative of Smaug: it's the Speleomantes, quite impossible to be seen by normal visitors.
I don't want to spoil the amazing view of the caves, therefore I'll just add one photo.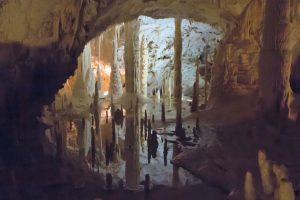 What's more, after the visit to the Frasassi Caves, there are other natural treasure to discover. One is the Valadier Temple, literally in a cave inside a mountain (the one facing the Frasassi Caves). To reach it there is a steep walking path, but the view at the end is definitely worth it. The other is the Adventure Park, built along the Sentino river, to enjoy both for children and adults. To sum up: in a day you can become a speleologist, a hiker, a Tarzan-like man and, of course, an art passionate. Right in front of the Adventure Park, there is indeed the Abbazia of San Vittore, beautiful example of Romanic style.