I must admit, I am not a real wine connoisseur myself. I grew up by having a bottle of white wine (namely, Verdicchio) on the table, for lunch and/or dinner but, beside that, my family is not really eager to get to know with the wine. Even though the first thing I miss as soon as I spend more than 3 months abroad is, paradoxically, wine.
So, to my great surprise, when I met Isabelle and Elke, my Belgian and German counterparts for our blog, and we had a tasting of the Vernaccia of Serrapetrona, I had no idea of what to expect. I could not even tell if the wine was white or red! It is indeed a very difficult type of wine to be found in local supermarkets, even if it had the D.O.C. denomination since 2004 and, after 5 years, got even the D.O.C.G. one. It is grown, harvested and produced in a very restricted area, namely the one around the municipalities of Serrapetrona, San Severino Marche and Belforte del Chianti.
So, surprise, surprise, the Vernaccia of Serrapetrona is a red sparkling wine! Oh yes, you read it right! There is also the Tuscan counterpart, which is white, but no great wonder comes from a sparkling white wine, right?
The process in making the wine is long and complicated. Luckily for the tourists (and the locals, too, apparently 😉 ), if you'd like to know in details how the wine is produced you can visit the open days in Serrapetrona. They take place two weekends in November, every year, and are called "Appassimenti Aperti". Appassimenti is indeed a key word: drying. The way with which the grapes are dried is very characteristic: it can be either hung on shelves or lied in wooden boxes.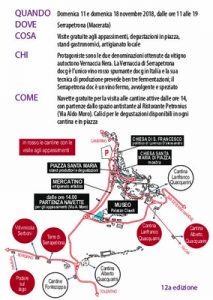 I'll try to give a hint of the long and laborious process, but if you're interested in reading a thorough explanation, read it more here: http://www.assovini.it/italia/marche/item/298-vernaccia-di-serrapetrona-docg
First of all, the harvest is done exclusively by hand. The first fermentation takes place in barrels: 60% of the grapes is immediately pressed and stored there; 40% is then dried hung up or put into boxes. Later in January, the dried grapes are crushed very gently and the juice produced is mixed to the one of the barrels, and the second fermentation is on. The third one has the yeast added to the wine put into pressure vessels, approximately two months after the second fermentation. This process takes a minimum of 2 months and on the basis of the sugar content a secco or a dolce wine  is produced.
The Vernaccia grapes have a very dark coloured: it is indeed called Vernaccia Nera (Black) and it must be used at least 85% for making the wine.
During the Appassimenti aperti, visitors can have guided tours through the vineyards, which, in this time of the year, can offer beautiful autumn colours. A tip: in order to have a quieter visit, we suggest to go between 2-3 p.m.
What's more, in the municipal square of Serrapetrone there are wine stalls, products from local craftsmen and, of course, local dishes to taste!
CIN CIN!