When I was a child, my family usually preferred the mountains to the seaside, at least "you can breathe fresh air and not die for the intolerable heat!" – this was like a mantra.
The closest place with chill air was Poggio San Romualdo where I spent my summers having picnics and nice walks. Poggio San Romualdo itself is a very small place, with barely one restaurant (although there used to be two when I was little) but the quietness and the nice hiking possibilities are a very attractive reason for weekend travelers to come.
Poggio S. Romualdo is part of the municipality of Fabriano and lies on the top of the mountain of the same name. It was once named Porcarella, but now has lost the name.
Porcarella, a mountain plateau of 5 km², was owned by the Camaldolese monks of Valdicastro , but in 1814 Napoleon took it over and assigned it to his stepson Eugene of Beauharnais; in 1870 it was bought by the Marquis Serafini; from 1946 it changed owners regularly.
Porcarella lost this name in 1936, when Mussolini named it Poggio San Romualdo after the founder of the Camaldolenzer Order: Romualdo. He founded this Order in the early 11th century after the example of the Benedictines in the town of Camaldoli in Tuscany. This order soon spread across Central Italy. The saint eventually died in the Abbey of Valdicastro. His body is in the church of Saints Biagio and Romualdo in Fabriano, but one arm can be found in Jesi Cathedral.

The area also served as one of the sets of the movie Watch Out we're mad with Bud Spencer and Terence Hill! (1974).
The restaurant and hotel that I mentioned before is called "Norma", and opened in 1965. It doesn't seem to have been renovated since then and has a peculiar charm of days gone by. But it is still the destination of day trippers and hikers, especially on weekends, because there is good Marchigian home cooking or picnic areas free to use.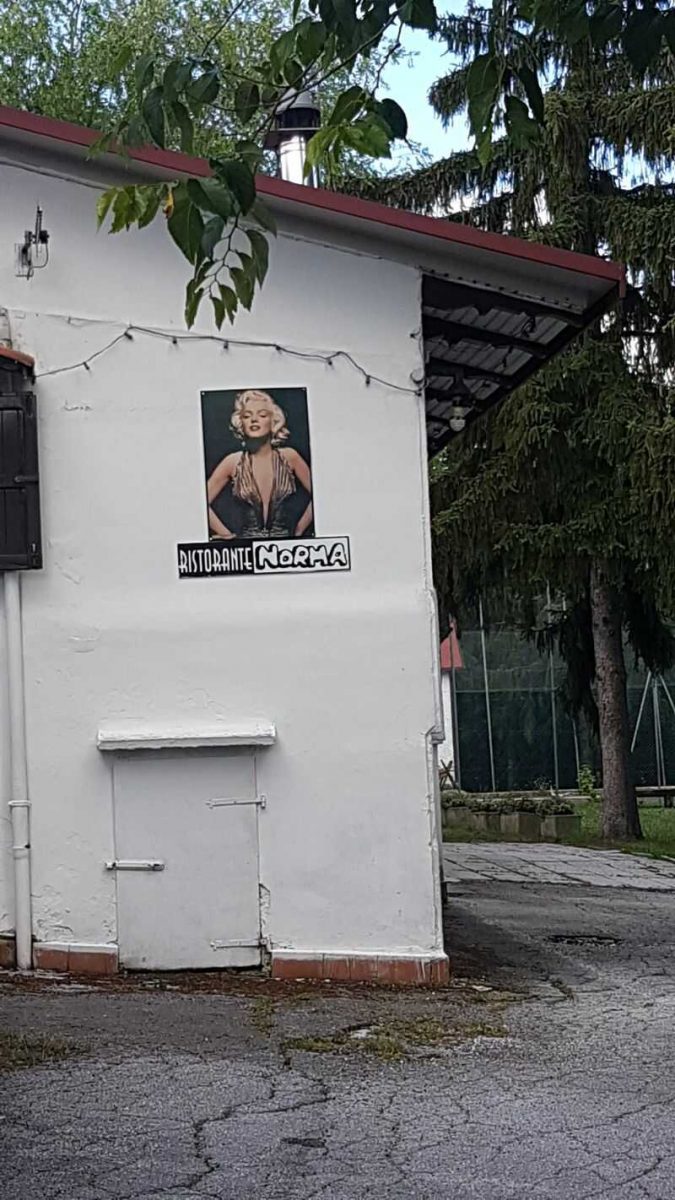 The big positive economic period around the 60s has a very clear outcome in this area: the holiday houses were usually common among the families in Le Marche, and very often people owned one house in Poggio San Romualdo and the other by the sea.
The picnic was a real ritual for my family: you had to get up and drive early to get the shady place on the benches (in any case we had our own picnic table) and the picnic couldn't be called such if it didn't have at least 3 courses.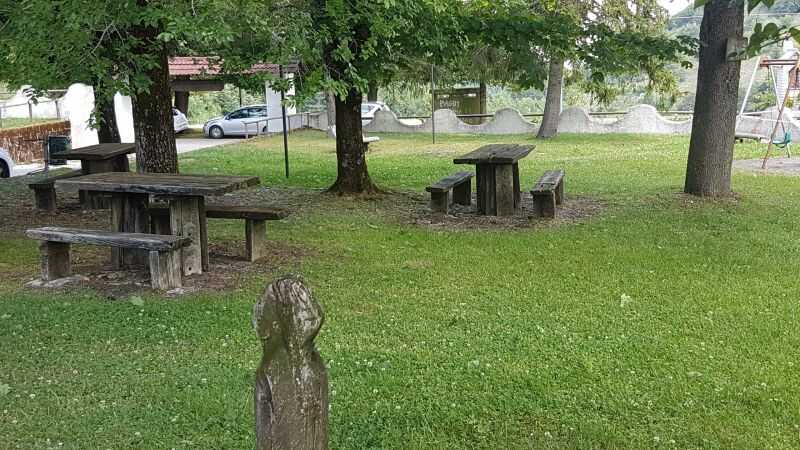 After the meal I used to take a stroll among the 60s' houses, and I remember that I was in love with one of them. It had that magic mountain style- with logs and flowers on the balcony.
Last weekend Elke and Otto tried the hike from Poggio San Romualdo to Valdicastro.
Vorig weekend wandelden Elke onze Duitstalige blogster en haar man Otto naar Poggio San Romualdo. Ze vonden een parkeerplaats direct voor Norma en passeerden de kerk en het waterhuis in oostelijke richting door het dorp en volgden uiteindelijk de borden op een smal pad dat steil naar Valdicastro leidde.
Here is Elke's description: "A short distance across a meadow and we reached an unpaved road, which we turned right to walk past Valdicastro. Behind the abbey, just before the cowsheds, we turned left onto a wide farm track and hiked past the free-living Valdicastro cows, beehives and a small pond, behind which we turned right.
Now it went bit by bit uphill through a pleasantly cool forest. After about 800 meters we had to turn left again to get back to Poggio San Romualdo. Finally, the path widened and we saw the first houses in the village."
If you want to get the GPS track, click here