During an event organised by the Slow Food Ancona, Elke, my fellow blogger, discovered the paccasassi. She was looking at one of her neighbours at the table, who very naturally was eating a sandwich with mortadella, and veggies on top. But those veggies were nothing familiar to Elke. Moved by curiosity, she bought one small jar of paccasassi prepared by the Rinci firm.
The taste is very difficult to describe: they remind us of fennel, but with more of a lemon aroma. A bit like algae, but much milder.
So..what are these paccasassi?
Paccasassi (Latin Crithmum maritimum, sea fennel or Samphire) is a small plant that grows on the steep coast of Monte Conero, among other places. Although it grows on land, it takes on a typical sea taste from the wind and the moist sea air. You can eat it raw, but it is also very suitable for pickling.
Its use has been known since ancient times: because of its high vitamin C content, it was valued by seafarers who used it to prevent scurvy. The plants also have a very high content of the good omega fatty acids. Shakespeare also mentions the daring Paccasassi collectors in his King Lear: "Half-way down, Hangs one that gathers Samphire; dreadful trade!"
The Italian name comes from "spacca sassi" – breaking stones, because the plants often take root in cracks in the rock. Even if they don't actually break the rocks, it almost looks like it.
Elke has done some reaserch and discovered that the plant is now not only popular with top chefs and is celebrated by well-known cooking forums such as Cucinaitaliana, Giallozafferano and the famous Gamberorosso, but it is now also highly praised in cosmetics for its "anti-aging" effect.
A few weeks after the Slow Food Ancona event, Elke, Isabelle and Elke's husband, Otto, drove to Castelfidardo and paid a visit to Claudia and Alessandro at the "Rinci" company.
The company has been specializing in paccasassi for around 5 years. Alessandro is one of the 3 co-owners who met during their studies (two of them studied food technology and one is a marketing expert). Luca, the second owner, was unfortunately at home with lumbago and Francesco, the third in the league, was waiting for them at work. Claudia is responsible for the communication and the correspondence, she has already worked internationally in Brussels and at trade fairs, joined a year ago and is completely enthusiastic about her job. She says everyone has "their" job, but in the end everyone lends a hand wherever it has to be.
The visit first started into the small production hall. Alessandro says it's actually too cramped now. But in times of COVID-19, they prefer to be a little more careful with the overdue expansion. The fact that they all sit so close together also has its advantage, says Claudia, because you can easily communicate with everyone without having to make a phone call.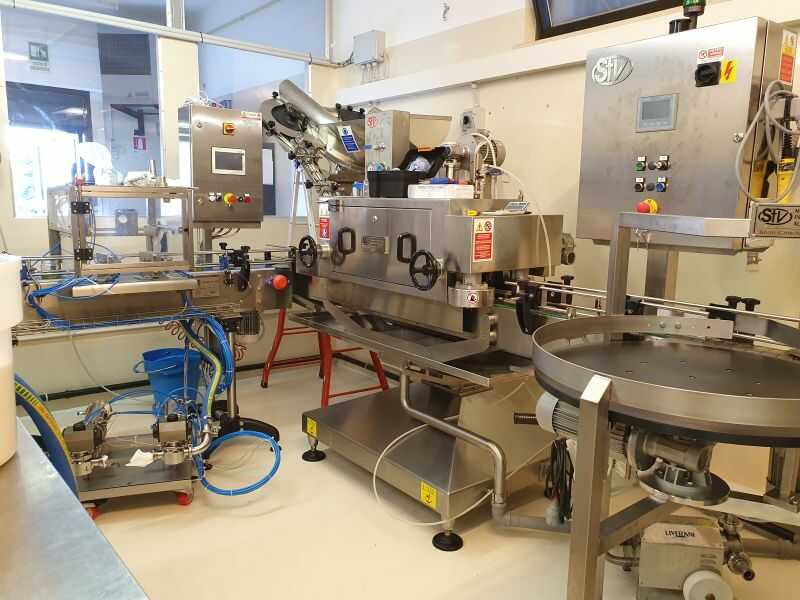 The hall is sparkling clean and you can even spot the employee Rossano cleaning Paccasassi with clear water. Their own fields are in Camerano and so the harvested Paccasassi can be from the field to the factory within 10 minutes – it couldn't be fresher.
Every day a different product is made: the classics are Paccasassi in oil, there is also Paccasassi mustard, Paccasassi pesto, Paccasassi mayonnaise and Paccasassi salsa. Except for the salsa, which contains anchovies, all products are vegan, even the mayonnaise is made without eggs.
Co-owner Francesco is currently in the process of labeling Paccasassi jars fresh from production and packing them for the shipping company. They now also ship to Germany, Switzerland, Denmark and even the USA. The buyers are gourmet shops, upscale restaurants or restaurants with innovative cuisine. A number of pizzerias on the coast now offer Pizza Bianca with Paccasassi and Mortadella, says Claudia.
How did they come up with the idea of producing Paccasassi? Luca, the third owner in the team, would often have had mortadella rolls with Paccasassi on them as a child at Monte Conero and really missed them. But now you are no longer allowed to harvest the plants there, because the area is a nature reserve and the plant is protected. So they decided to grow them themselves in the immediate vicinity of Monte Conero.
In fact, the plants have been valued in other coastal areas of the Mediterranean and Atlantic since ancient times and they are also grown in hobby gardens. But Rinci is the first company to produce and sell pickled paccasassi, says Alessandro.
Next stop on the visit is in the fields near Camerano. Located next to a secluded olive grove and with a view of Monte Conero, the cultivation area boasts 5 hectare.
Rinci works with the university, for which an additional small field has been marked out for research purposes. With the support of the EU, the project is studying the ideal conditions for paccasassi cultivation.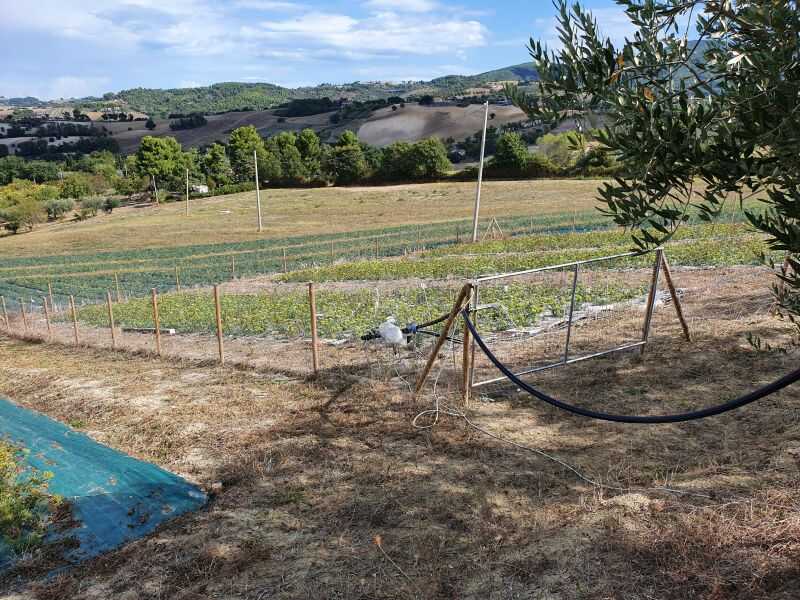 The plants are very perennial and very frugal. They do not need additional nutrients, no extra irrigation, and are not treated with pesticides. An underlaid plant fleece keeps most of the weeds away, the rest is removed by hand 3 times a year. Everything is done by hand, says Ettore, who we get to know in the fields and who studied agricultural science.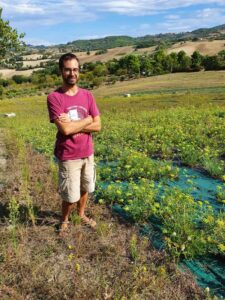 Each plant is harvested once a year, with the most intense phase being between June and August. Because of the heat, the harvest workers work from 5 a.m. to 1 p.m. The flowers are also harvested and made into a cosmetic oil with olive oil. Some flowers remain and are used to produce seeds, from which the next generation of plants is grown in their own small greenhouse.
As the time for goodbyes comes, Alessandro is wondering whether we have any contacts with gourmet and food companies in Germany or the Netherlands that they can turn to. We like to take a look, we said!
Elke could not resist to try the new paccasassi just a week later, when she baked a perfect pizza bianca with mortadella and paccasassi on it!
Claudia has put together a list of shops where you can buy Paccasassi:
Ancona – Bottega Re Formaggio (Piazza J. F. Kennedy, 10/11) – Panificio Sestili (Mercato di Via Maratta) – Mangio Ergo Sum (Corso Amendola) Porto Recanati – ciauscolo.it (Corso G.Matteotti, 54) Numana – Enoteca Azzurra (Via Flaminia, 90) Sirolo – La Drogheria (Via Italia, 2) Osimo – Tavernetta del Corso (Corso Giuseppe Mazzini, 74) Loreto – Il Buono delle Marche (Corso Boccalini, 81)Recanti – Bottega della Carne Morotti (Viale Fiume, 13) Castelfidardo – Briciole (Piazzale Buonarroti) – Andrea Specialità Gastronomiche (Via Rossini 129/e) Fabriano – Lalli food (Mercato Coperto, Piazza Garibaldi, 37) Senigallia – Enoteca Galli (Via Pisacane, 2) Chiaravalle – Il Polo (Via Maestri del lavoro, 17)
In addition, there is an overview map where you can enjoy Paccasassi in the restaurant or buy it in the shop.