Some dishes are incredibly linked not only to one region, but rather to just one village. Calcioni in Serra San Quirico is one example that we talked about some time ago and Tagliatelle fritte in Monterubbiano is our latest tasting. Although the name is the same used for some Carnival dishes in other parts of Italy, this is exclusively a first course.
When you look at it, it seems nothing but tagliatelle.
It's a fried meatball, after all! But when you cut it in half.. that's where the tagliatelle are!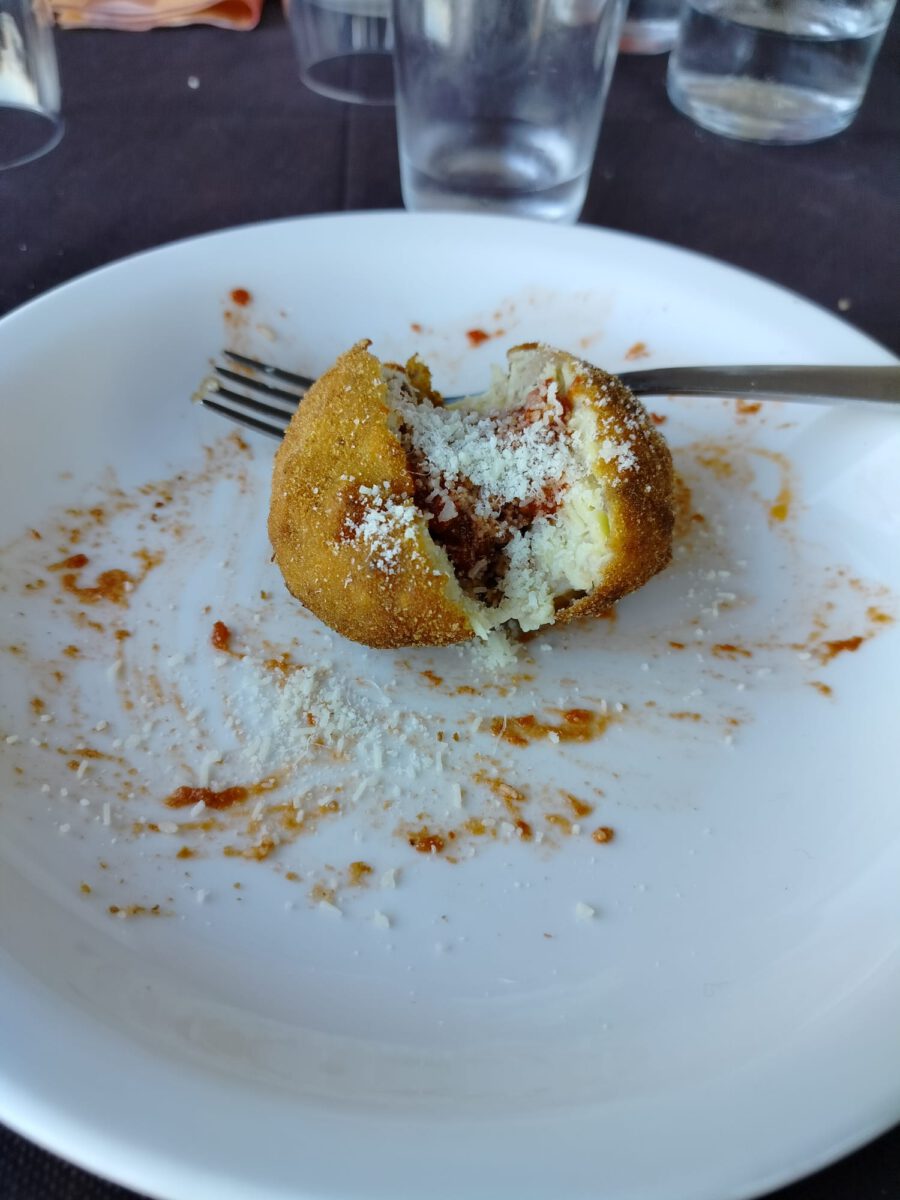 This dish comes usually with a place of ragout (just mixed minced pork and beef meat), that you have to pour over your open-meatball. The inside has just homemade tagliatelle, cooking cream, béchamel, mozzarella and parmesan, if you want it.
The idea of tagliatelle fritte comes from Mrs. Santina, real name Alessandra, that in 1973 wanted to create a new and impressive first course for her son's wedding. She had been working in her Albergo Ristorante Pazzi since 1953, when she and her husband took over a small inn with three rooms in the town centre in Monterubbiano.
From that wedding dinner the word spreads, restaurant reservations for big ceremonies have to be made at least two years in advance, everyone chooses Mrs. Santina's tagliatelle fritte. A few years later, the then president of the Monterubbiano Sports Club proposed to Santina to organize a festival of tagliatelle fritte that was «Specialty of Ristorante Pazzi». As every proper Marchigian recipe, tagliatelle fritte have a secret ingredient that absolutely cannot be revealed and that Santina didn't even tell her daughter, but only to her niece bearing her same name, Alessandra.
I tried this delicious dish at Il Coccaro, in Monterubbiano, as the Restaurant Da Pazzi is no longer working, that has a terrace overlooking an amazing panorama.
I have also found the recipe in the precious magazine La Cucina Italiana :
Ingredients
250 g of tagliatelle
150 g of mixed ground
100 ml of cream
100 ml of béchamel
50 g of butter
50 g of Parmesan cheese
salt
nutmeg
For the breading
flour
2 eggs
breadcrumbs
fry oil
For the seasoning
Cook the mixed minced meat in a pan with butter, salt and nutmeg. Boil the tagliatelle in boiling salted water and drain them once they are cooked. Season them with the cream, the béchamel, the minced meat, the Parmigiano Reggiano and mix everything well. Spread the seasoned tagliatelle on your wooden work surface, let them cool and rest for at least two hours (even three if it's summer). When they are cold, cut small portions of tagliatelle. Work the portion obtained with your hands making it into a meatball with the top slightly flattened. Roll them first in the flour, then in the beaten egg, then in the breadcrumbs. Fry them in plenty of hot oil. If you don't fry them right away, you can keep them in the freezer.
If you prefer eating them in Monterubbiano, you can't miss the yearly Sagra delle Tagliatelle Fritte which usually takes place in mid-August. Check the Facebook page to keep updated
Now you are ready to eat the tagliatelle the proper way!