My motto for 2020's gifts' list was "support local artisans". It is not easy to find some talented craftsmen these days, that's why you can trust us when we recommend Laura Scopa's studio in Appignano:
Federico Brocani, who with his organization "Marchecraft" brings together tourists and Marchigian artisans from various professions, recommended that we take a look at Laura Scopa's workshop. No need to repeat it twice! Elke and Isabelle visited her workshop very happily!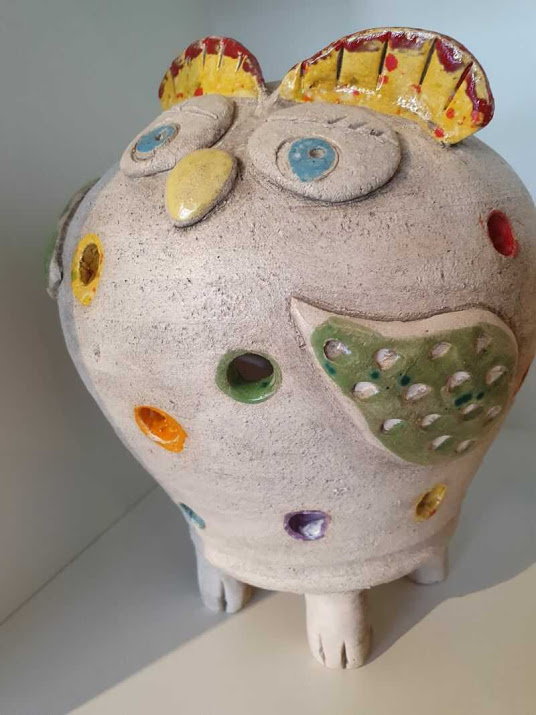 On the spur of the moment, they drove with Federico from Marchecraft to Appignano, which is in the province of Macerata and which has been known for its pottery tradition since the 16th century: in 1557 a certain Pasqualino Mariani moved from Caldarola to Appignano to make pots and bowls, Pottery water jugs, oil jugs, plates and cups. Soon other residents of Appignano followed his example to produce these pottery called "cocce" and to earn some extra money besides working in the fields. So Apignano gradually became known for its pottery art and it stayed that way until the middle of the last century, when unfortunately plastic replaced clay materials in many areas.
A little outside the city center we reached Laura's studio and shop. She was already waiting for us and first led us to her shop. And what great things she was selling there!
Originally Laura doesn't come from Appignano and she wasn't a potter either. She first studied at the "Scuola del Libro", the school for books, in Urbino, where she graduated in 1997 in etching techniques and book illustration! From 2003 she started experimenting with ceramics and in 2007 she took a course in Urbania, another famous ceramics city of le Marche. Laura has since received an impressive number of prizes and has taken part in national and international exhibitions. You can see a list of their awards on their website.
She has designed different product lines and in her current work she is trying, excitingly, to combine the worlds of graphics and ceramics. To do this, she first etches on linoleum in order to literally print on the raw clay. This is how what she calls "Xiloceramics" is created.
Her collection, she says, ranges from everyday objects to pure art objects, the latter mainly for exhibitions and competitions. With that she already took part in one of the big ceramic fairs, the "Argilla Italia" in Faenza.
At first she felt a little strange in Appignano, because the ceramic city was better known for traditional pottery and earthenware pots. This is still something her husband is concerned with. But she herself prefers the innovative and artistic, which is also evident in the name of her company: "Forme Attuali" – contemporary forms.
But now to some interesting objects: who of you still knows the little wobbly animals that you could move at the push of a button?
Laura took this toy from the childhood as an inspiration for one of her other product lines, the "Animaioliche":
She invented a beautiful romantic story around these funny little animals, which can be seen in the animated film below. Will Carola the cow and Ernesto the bull find each other in the end?
The video about the elaborate manufacturing process shows how she brings the animals to life:
Another line are the "Monster Cups", original cups in the form of friendly monsters that can also be conveniently stacked:
Even Laura's vases and utensils clearly have their own signature!
We were also allowed to visit Laura's studio. Here she designs, projects, designs and realizes her objects. Here she also holds her workshops, in which she exclusively looks after small groups of 2 to 4 people individually. Because otherwise, she says, you don't learn anything.
We got a demonstration of how a simple vase is made: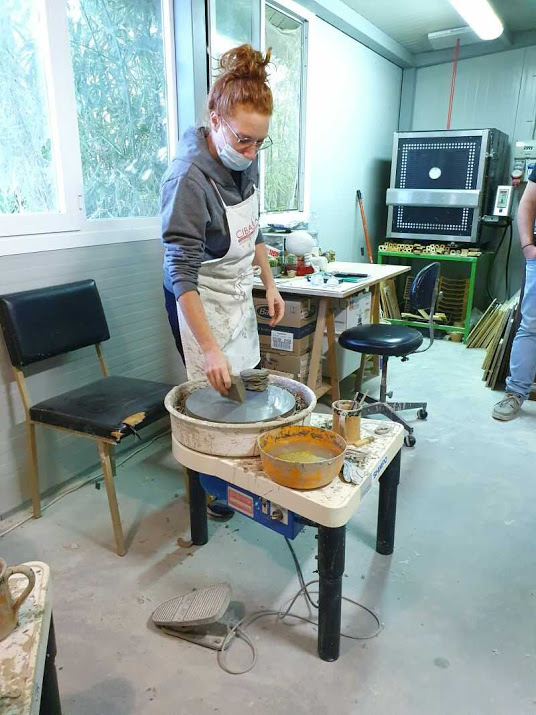 At the turntable she first placed a clay block in the middle of the disk. This is one of the most difficult steps in the whole process, she told us, and that newcomers to pottery wheels in their workshops mainly spend the first 2 days practicing centering. Then they learn to shape a cylinder. The highlight of the course is then your own project: the students first draw their dream object and finally realize it with the help of Laura.
Each object must first dry for 1 to 2 days before being fired for the first time at 990 degrees in its own oven. Then it is sprayed with color pigments, which are fixed in a second firing process. This is how the colored glaze is created.
Every now and then Laura also works with porcelain or makes larger objects. But for this, she says, she has to go to colleagues who have a larger and more efficient kiln.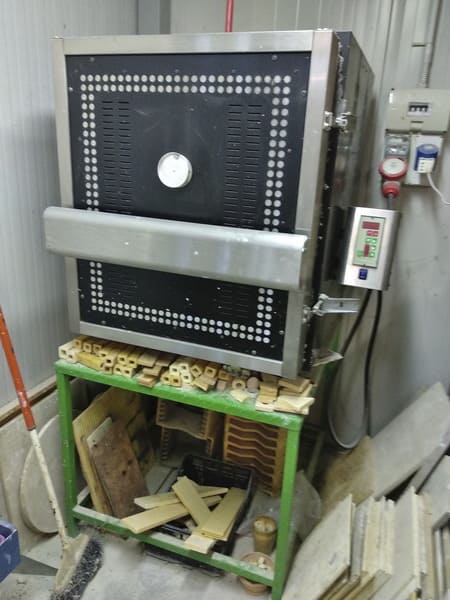 A super exciting day with Laura. Isabelle, Federico and Elke have learned a lot again!
If you would like to take a course with Laura, you can always contact Marchecraft. A beginner's course lasts 14 hours in total and is spread over several days. Anyone who already has pottery experience can also contact Laura directly for a tailor-made, advanced course.
And anyone interested in Laura's collections can take a look around her small shop in Via U. Foscolo 6 in Appignano. When you're there, it's best to call 0039-339 13 600 83 first, because she is often in the back of the workshop.
By the way, during the Christmas season, Federico from Marchecraft organizes a special campaign together with a weaver from Jesi: there is a beautiful hand-woven bag with discount vouchers for the workshops or the weaving shop in Jesi.