I am not a big supporter of football myself, but Isabelle is, and she draws a very detailed list on why we should all cheer for the Azzurri Team on Sunday, against England.
1. The national trainer, Roberto Mancini, is from Le Marche!
Did you know that Roberto Mancini is from Jesi, so very close to our hometown Cupramontana? His father enrolled him to the local football club lying about his age! He was only 5 when he started in the Aurora football team (children were allowed only from 6 years old), and from that moment on, he has never left number 10 on his back during his entire football career. From Jesi he moved to Bologna when he was thirteen. At the age of 16 he was already allowed to play in the Serie A (the Premier League), after which he ended up at Sampdoria Genova a few months later. Here he ended his successful football career 15 years later.
He defended the Azzurri's honor for 10 years from 1984 to 1994.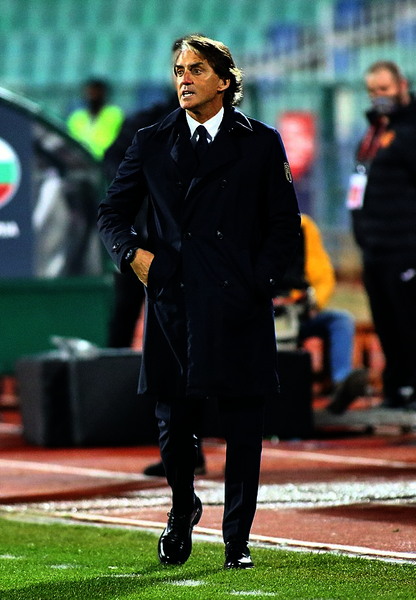 His career as a trainer is also impressive: his training career started in 2000 in Florence; it then continued to Lazio, then to Inter and then even to Manchester City, during the Premier League in 2009. Another Turkish adventure followed in Galatasaray, a return to Inter and then to Zenit Saint Petersburg. Finally, the Azzurri national team called him in in 2018: he created a brand new, young squad with a totally innovative football for Italy. It is not for nothing that he received his place in the hall of fame of Italian football in 2016. His hometown Jesi already thanks him for his achievements with the national team, by putting up placards everywhere:
In addition, several entrepreneurs from the hospitality industry in Jesi, among which there are Marco Tombini from the JackRabbit bar and Riccardo Staffolani, from the Transylvania Vinyl bar, in collaboration with the illustrator Francesca Ballarini from Premiata Fonderia Creativa, the Tipografia New TJ and the FlyFood platform, came up with an original table mat for Sunday's competition. The table mat says that the city of Jesi is part of the dream .. of the trainer Roberto Mancini. All customers who eat something at one of the catering establishments of Jesi città da vivere, do so on these nice placemats.
This is a video from the local newspaper QdM Notizie:
2. Even abroad, the trainer honored the Marchigian cuisine:
Mauro Santori, chef of the restaurant I Ponti, by Lake Cingoli, traveled with him to Manchester City for a number of years. The Mister, as a trainer is called in Italy, regularly ate in this restaurant. Initially, Mauro wasn't sure whether he would accept the offer of going to Manchester with the coach, as his English was not special, but the Marchigian cuisine and especially Macerata's quickly fell to the liking of all players.
3. Because we think this new team is promising.
Moreover, I am Italian and even more Marchigian, Isabelle is half Italian and has lived in Le Marche for 21 years and last but not least Elke has owned a house in Le Marche for several years now.
So Forza Azzurri! we are cheering for you on Sunday!!! I hope you too????