We are well aware that truffles are one of the most exquisite food on earth, and that truffle hunting has now become one of the main exclusive experiences you can enjoy in Italy…so imagine our surprise when Isabelle discovered and told us about a truffle expert living just 10 minutes far from us! We couldn't believe it, and of course must see with our own eyes! Le Marche is well known for the truffles, and indeed we talked about truffle hunting and the truffle museum in Acqualagna several times but we couldn't imagine we could find them so close to us!
The truffle expert's name is Antonio and the magic place (at the end of a dirt road) is Rotorscio 37. Antonio's activities and fields of expertise cannot be summed up just as a simple "truffle hunter". He's so much more than that!
First of all, he is a worldwide consultant in truffles' plants (I'll explain you in a moment what that means). He explained to us that during the 90s the truffle cultivation in Italy was very mysterious and the techniques rarely shared. What he wanted to bring to the truffle world, however, was his studies and know-how. Hence his job experience all around the world, teaching how to build your own "tartufaia" (the field where the truffles grow). What you need at first are the plants that activate the mycorrhization; that is to say the mutualistic symbiosis by which the root system of a plant and the fungi growing on them exchange nutrients required for their growth and survival.
In fact, truffles are nothing more than a genus of hypogeous fungi, and they require their specific plants to grow. Antonio told us that the most common ones are hazelnut, Portuguese oak, holm oak (it goes without saying that, in order to have a productive tartufaia you either produce truffles or nuts) and rock rose, but he's already planning to try some others that turned out to be very good for this purpose as well. You can have also a so-called "truffle garden" with non-productive plants, called comari (friends), that help the process of mycorrhization.
Sharing and teaching his knowledge is of course something, but working on his own land must be a real pride! Indeed, Antonio showed us around his big field, explaining to us the difference between a "manmade" tartufaia and a natural one. The first one, of course, requires a real deep knowledge: the farmer must know how to work on the root system of the plants in order to push them to look for new truffle spores and consequently to produce new truffles. The natural one, on the contrary, has nothing to do with the humans: the truffles grow where the animals live and poop… you get how it works 😉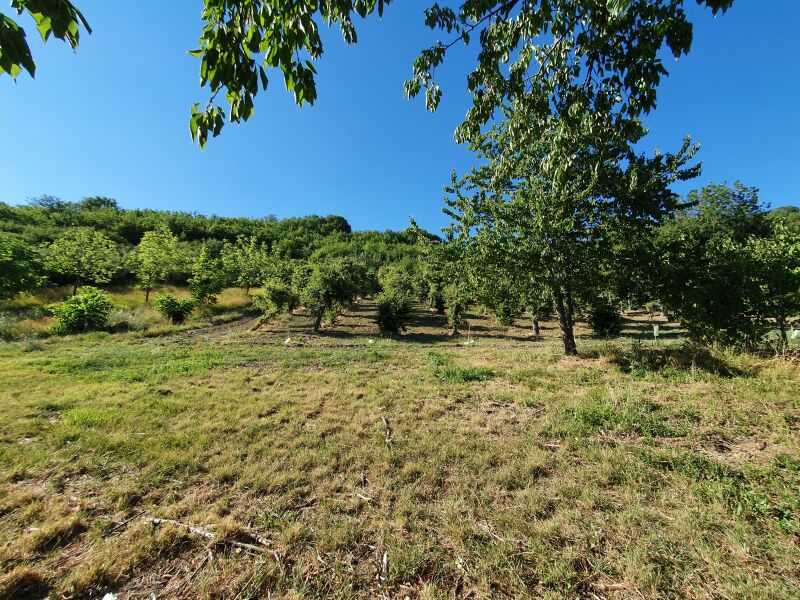 So now that the tartufaia is producing truffles…how are we going to find them? That's where a man's best friend comes in handy! There's no way a human can find a truffle on his own: he needs the incredible sense of smell of trained dogs. Antonio has 3 beautiful dogs, Dafne, Mini and Barsi, that were trained for this job. Another activity of which Antonio is super proud is indeed the training of truffle dogs. He's organizing some training camps for dogs that should already have a particular sense of smell. Some breedings are more suitable than others, of course, but also hunting dogs, for example, can do it!
When I speak about this as a job I'm not overestimating it: for the dog the truffle hunt is a real physical and mental wearying activity. One of Antonio's dogs is a real energetic runner, but while working she is really calm and focused. For them the smell of truffles is so stinging that they need to clean their nostrils very often while on the truffle hunt. You can observe them while looking for truffles and how concentrated they are during one of the truffle hunting experiences Antonio organizes.
The truffle hunting experience lasts about 2 hours and a half. At the beginning you get a detailed explanation about the truffle, its life cycle and all the anecdotes related to it. After that, you can walk among the plants of the big tartufaia of Antonio while also enjoying a stunning view from the top of the hill.
When it's time to go truffle hunting, one of the dogs of Antonio will come and do the dirty work. Got out of energy after all this? Then it's time for a tartufaio's meal, with ingredients harvested in Antonio's land or in the nearby farms. The cost for the whole experience is 65€ and you can contact him on Facebook or by phone to book it.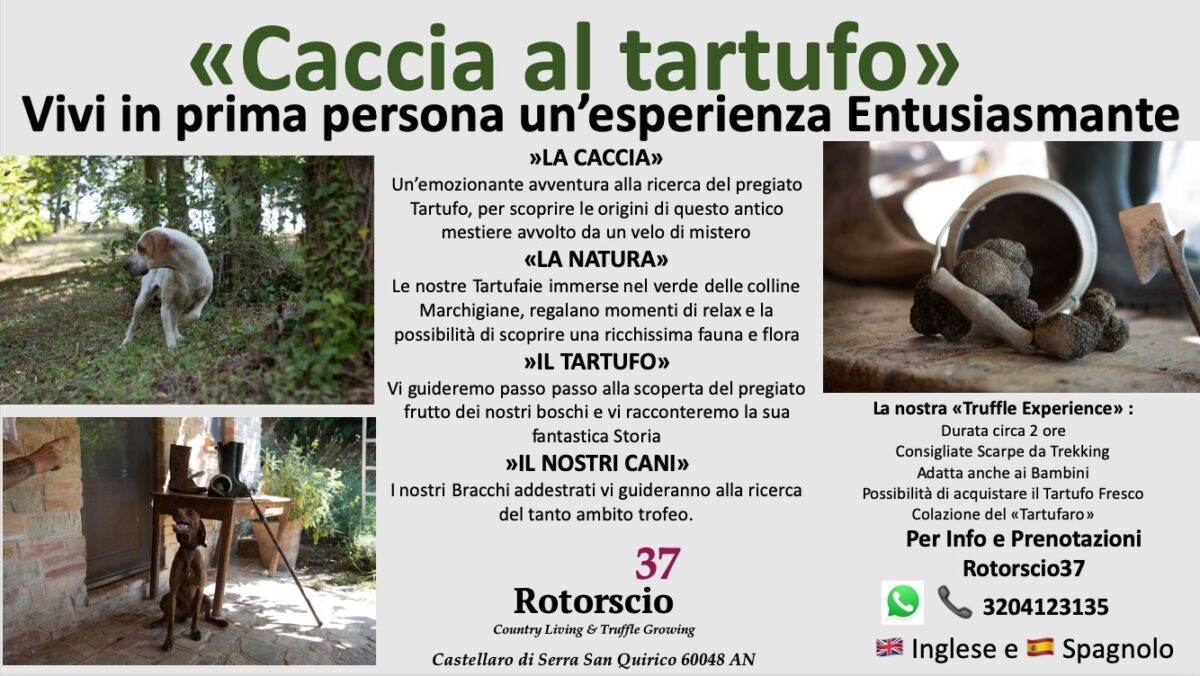 Of course we haven't shared with you all the secrets the truffle world has and that Antonio treasures so well… if you want to know more, you have to experience it yourself!