Macerata is one of the 5 provinces of Le Marche and, can you believe me when I say that I had never visited it before last February? SHAME on me. Do not follow my example and let yourself discover its small alleys and rich cultural treasures in a one-day trip. You know we love to suggest how to spend a whole day in a town or village in Le Marche, but of course, you're free to make your stay longer! We will add some more tips and suggestions along the way, also because we have already spoken about some of these places nearby.
If you're anything like me, and judge a city by its parking spots, you'll definitely love Macerata! There are three big parking lots just outside the city walls, all connected to the centre via lift, staircase or a short walk. Here is a full screen map to check where the parking lots are: https://k9v7p5r6.stackpathcdn.com/wp-content/uploads/2019/11/MappaParcheggiMacerata_2020.pdf
Mamma Graziella and I chose Parking Garibaldi, and from there we started our tour in Macerata. Everywhere in the town there are these signs helping the visitors finding infos and directions.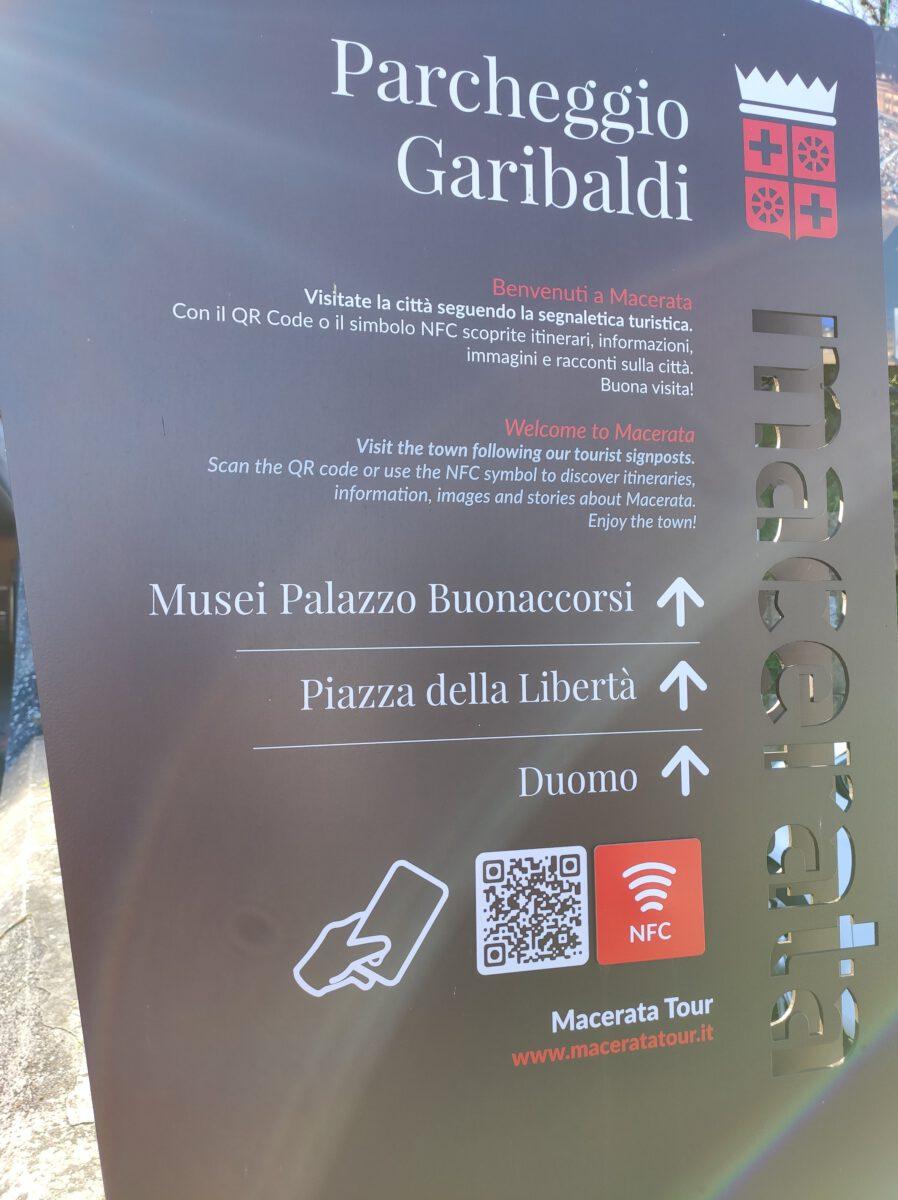 9 a.m. Breakfast at Pasticceria Maga Cacao
What I usually do when I go out exploring new cities is looking for the I.A.T., the tourist office. The one in Macerata is right at the centre in Piazza della Libertà. Here you can buy the museum pass for Macerata museums (10€) and even one with Recanati's museums included (13€).
And look there, I see some pastries! Pasticceria Maga Cacao is the most delicious bakery you could try to kick off your day. There are so many cakes and so colourful that for us it was impossible to choose. Indeed, we ate some on the spot and took some others on the go!
While sipping your cappuccino, you can't help yourself but staring at the 64-meters Clocktower (pick a table outside and enjoy your view). The peculiarity of the tower is its astronomical clock, built between 1569 and 1571 by the watchmakers' genius of Reggio Emilia. It indicates the time, the moon phases and the movement of celestial bodies.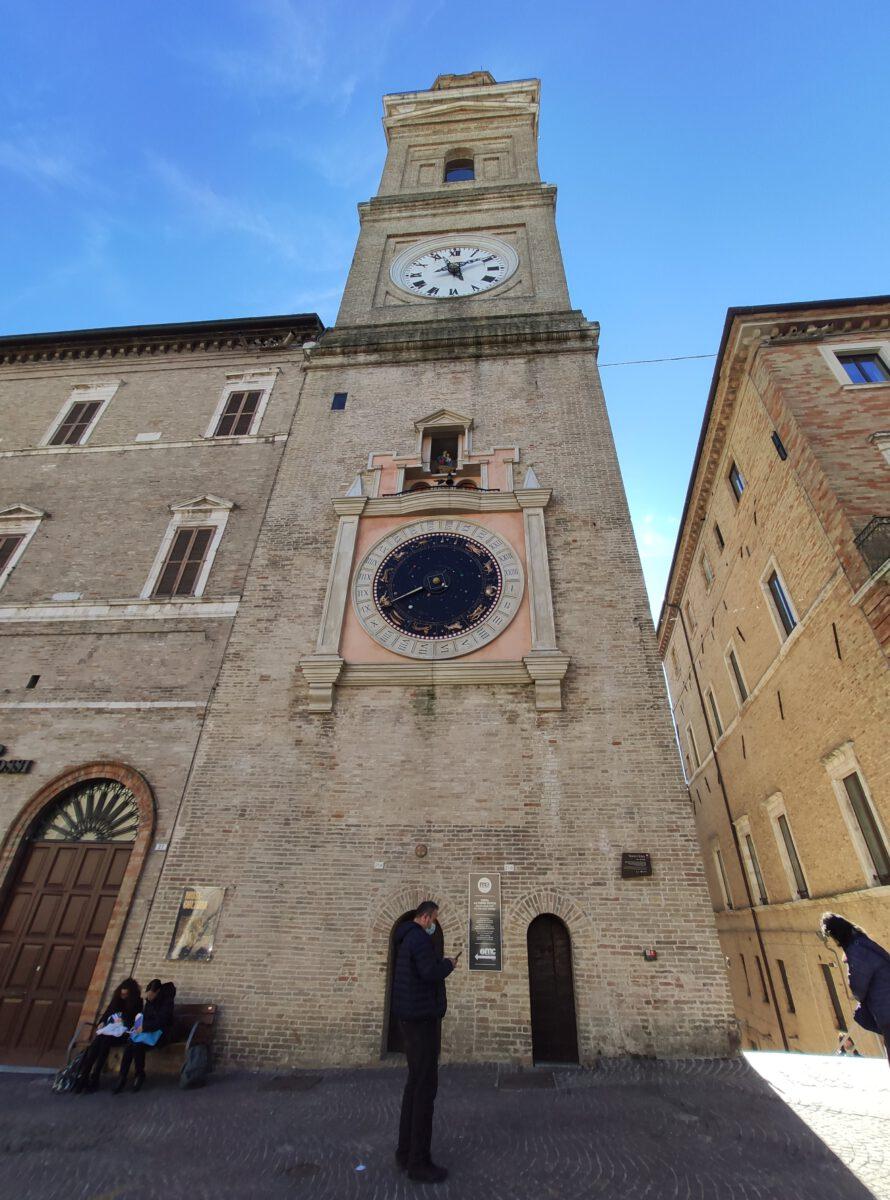 TIP: look closely to the planets. Beside the Moon and the Sun, there are only 5 of them. This is because those were the only ones known in 1571
From the top of the tower, you can enjoy a panorama that goes from Sibillini mountains to the Adriatic Sea. Guided tours are scheduled every day at 10:30, 12:00, 15:00, 16:00 and you can book them at the tourist office.
There was a whole very complex mechanism behind the clock: it included wooden sculptures of Magi and Madonna with Child, that are now preserved in the Civic Museums of Palazzo Buonaccorsi, as are the bronze panels with the zodiac signs, an integral part of the mechanism.
10:00 a.m. All aboard!
Our next stop is precily the Civic Museums of Palazzo Buonaccorsi, just a few meters away from Piazza della Libertà.
Our main goal here was to visit the Carriage Museum and oh boy, it was totally worth it!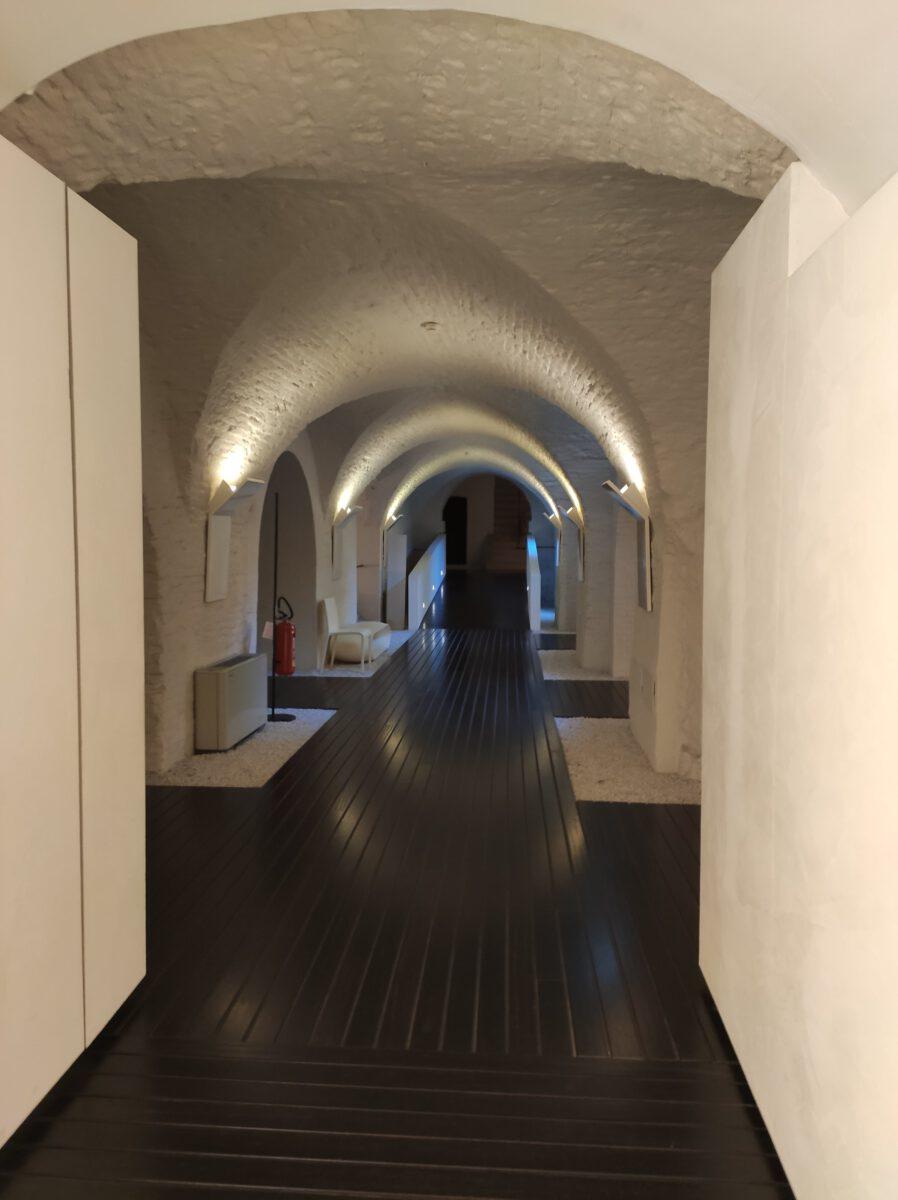 On the basement of Palazzo Buonaccorsi, 24 carriages take you through a journey into history! The museum was opened in 1962 thanks to the donations by Count Pier Alberto Conti of Civitanova Marche (1884-1968) and supported by the local Lions Club.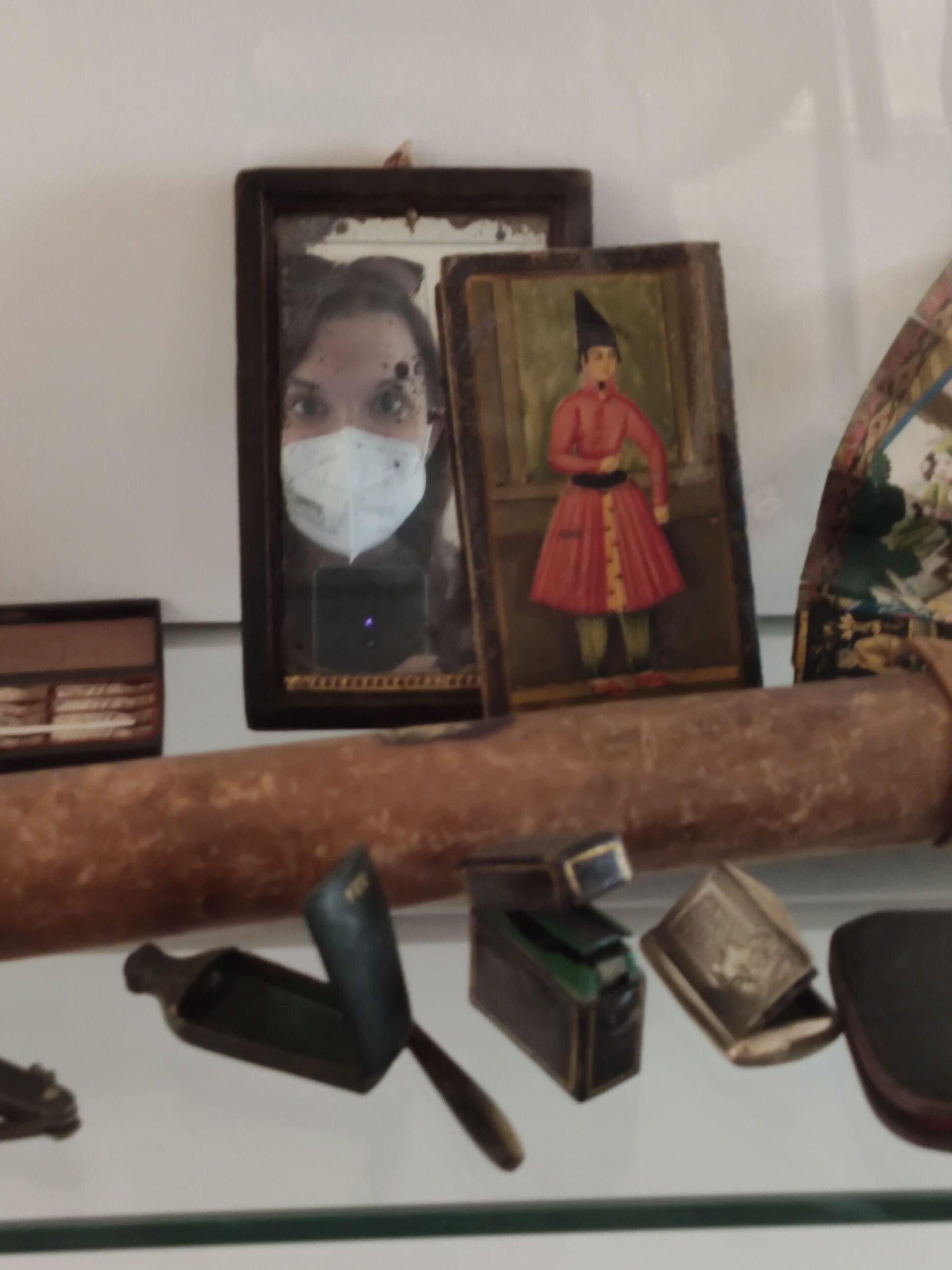 Whatever comes to your mind when you think of a carriage, it is probably displayed here. Be it as a real old carriage or on horse racing manuals, prints and vintage photographs. I was indeed quite surprised to see a pram, but then I realised… it is also known as carriage! Included in the donation was a rich series of saddles, bits, whips, bridles, horseshoes and harnesses for bindings.
On the first and second floors there are three collections of art. The first one, Arte antica, has painting from 1400 to 1700;Galleria dell'Eneide preserves a whole series of paintings on the Aeneid and the last part, Arte moderna, shows works from 1900 and contemporary ones.
The museum is really big and it took us almost two hours to visit it all!
12:30 a.m. Time for a healthy lunch
Mamma Graziella and I were looking for something really special on our discover day of Macerata. And we found it! At Verde Caffè the meals are vegetarian and very well assembled! The ingredients are harvested and/or produced locally and therefore seasonal. Totally recommended!
If you are going on a hot summer day, we also suggest to do your siesta at the Public Gardens. Here you can relax with the view of Sibillini mountains! You can easily reach the gardens through a lift a few meters down the street from Verde Caffè.
2 p.m. Don't judge a book by its cover!
A must see in Macerata is the old library, Biblioteca Mozzi Borgetti. Even though from the outside it may not be as attractive as old buildings are, with its 400,000 pieces, including incunabula, manuscripts, maps, statutes and legal funds it is one of the biggest of Le Marche! This library originated from two different libraries. The first one was donated by the Mozzi brothers, Giuseppe and Bartolomeo, who in 1787 restored what once was the first public library and university.
Later on, in 1834 the Dominican Tommaso Maria Borgetti added other 9176 works.
Thanks to the dedication of the Dominican father Tommaso Maria Borgetti, the Borgetti Library, autonomous until 1855, was installed in the same building from 1834. The two libraries, Mozziana and Borgettiana, were then unified in 1855 and gave life to the Mozzi Borgetti Library.
The rooms of the library are also a work of art! The ceilings as well as the walls are covered by beautiful paintings by local artists. What strikes the most is, however, the Gallery of Mirrors with portraits of philosophers and scientists. The collection of books, indeed, boasts old volumes of all disciplines!
Just outside the library there is Museo Palazzo Ricci, that was under renovations when I went.
Don't miss the chance to stroll along the alleys of Macerata, you can find many interesting little shops! We also suggest walking down Via degli Orti and looking up at the many "bridges" connecting the houses on this alley. The name of the alley "little garden" refers exactly to these little spaces connected to one another.
4 p.m. the open-air theatre
The most important building in Macerata is without any doubts the Arena Sferisterio. We once talked about it when explaining how many theatres there are in Le Marche. And, indeed, there is also one beautiful in Macerata: Teatro Lauro Rossi (that was unfortunately inaccessible on this day because of an event).
But Sferisterio is a whole different experience, and you should definitely book yourself a seat for a play or a pop concert!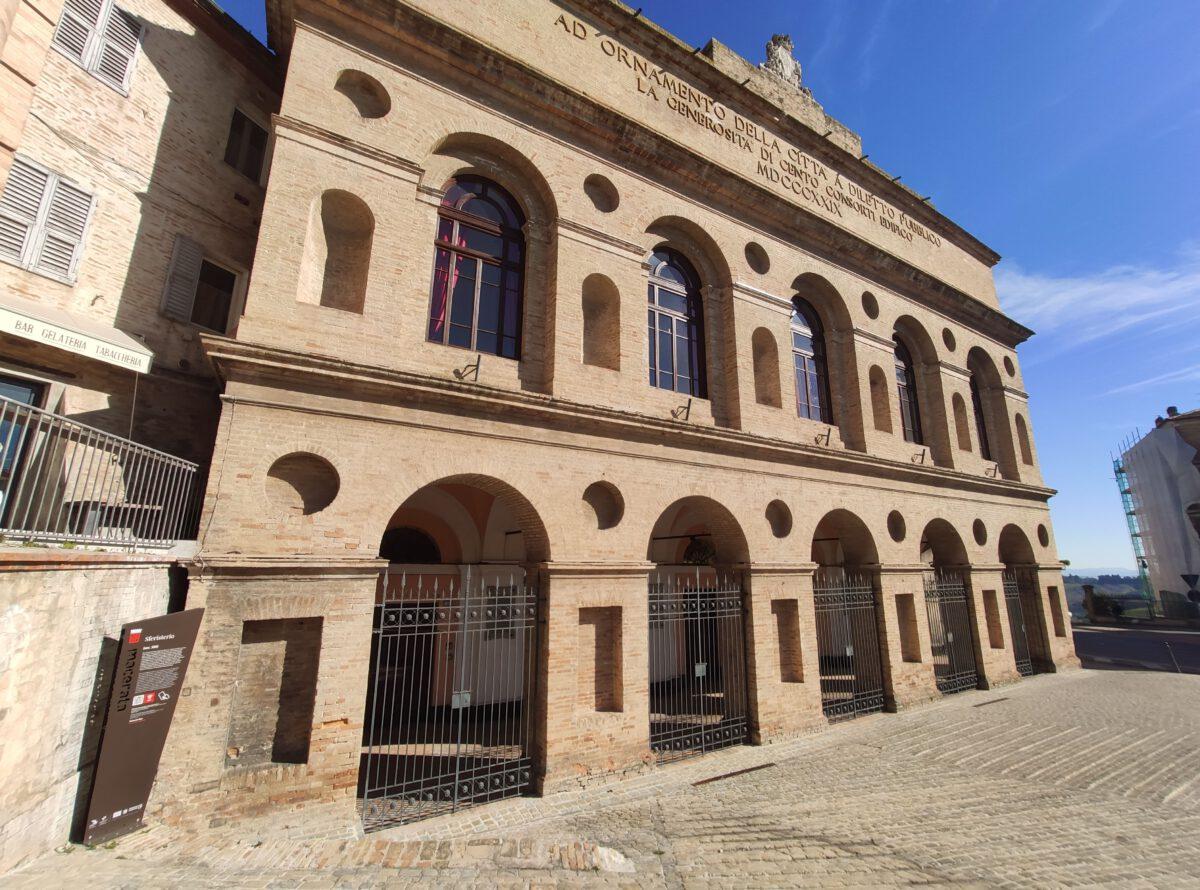 You can also visit the Sferisterio with guided tours. When I went in February 2022, there was the "Impossible exhibition on Raffaello".
5 p.m.
For a last sip of traditions and culture, you can visit the weaving workshop "La Tela di Ginesi e Varagona". It is situated beyond Porta S.Giuliano, the oldest gate of Macerata, bearing the name of its Patron Saint. Here the artisans have combined a fully working workshop with a museum since 1986.
Aperitivo time
Climbing back the alley from S.Giuliano Gate, you will end up in Piazza della Libertà. And now we dare you to try one of the delicious panini of Porchetteria centrale. They have all kinds of meats and sauces, for a real Marchigian experience!
TIPS:
Just a few kilometres outside Macerata there is the Eco Museum of Villa Ficana, that in 2022 celebrates its anniversary. We visited it some years ago. Check here the post if you missed it!
The archaeological site Helvia Recina, in Villa Potenza, is a step to the…future! With new funds, indeed, there are virtual instruments to help the visitor go back in time and relive the Roman everyday life at the Roman theatre.
Every year there is a pilgrimage from Macerato to the Holy House in Loreto. In 2022 it will take place on June, 11th