I am writing this post with crumbles of cookies sbagliati (wrong cookies) everywhere.
What is wrong with these cookies, you may ask. Well, they are delicious yet original cookies with white chocolate, cocoa powder and..salt. An unusual mix of ingredients as unusual as the protagonists of this story: Jacopo, Gian-Luca and 18 hard-working guys behind the small bakery named Frolla (shortcrust pastry).
Check the video they published in 2018 to introduce the new-born Frolla to the world.
Oh yes, that's the special part about this bakery, the 18 hard-working guys are all "socially (dis)advantaged" people, as the biography in the rear of the cookies package claims. And Jacopo and Gian-Luca are the founders of this dream-come-true small factory. Isabelle, Elke and I had a long chat with Jacopo and had the pleasure to meet some of the guys at work in their small, yet fully equipped, workshop.
Gian-Luca, who used to work in a social co-operative, was the football trainer of Jacopo, a young passionate about bakery. An unusual (see above) combination that boosted the idea of opening a new concept of bakery, where costumers would buy and appreciate the cookies not out of pity for the bakers, rather for the deliciousness of what they were eating.
The bakers in action are all young pastry chefs that studied at the local hospitality training institute, did an internship at the bakery and currently work 4 hours a day in this biscuit-heaven. (We are very sorry we cannot share with you the sweet delicious smell that struck us, as soon as we entered their workplace). They are young people with disabilities but this hasn't prevented them to learn a new job, master all the phases of the production (from the cooking to the packaging) and meet and exchange ideas in an atmosphere that is both family-like and professional.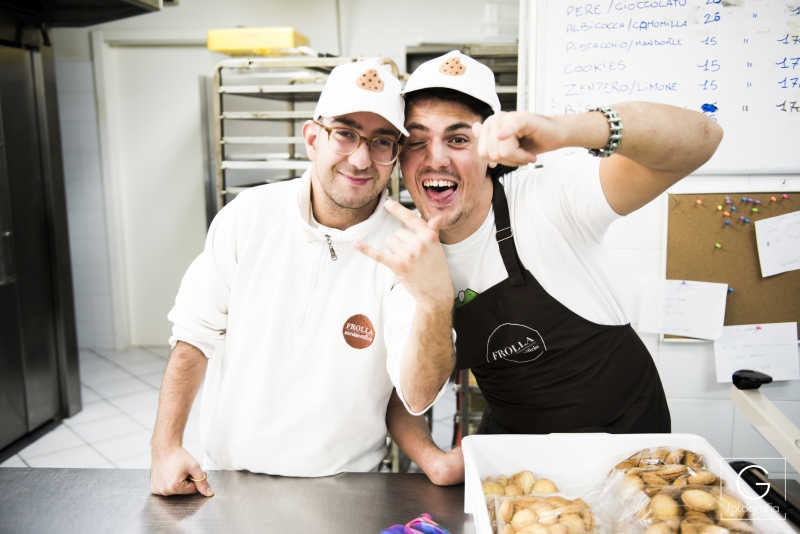 However, the first steps were not easy, as the words that Gian-Luca's wife, Elisa Caporalini, wrote in the Italian book "Frolla – biografia di un sogno".
There were funds to get, bureaucracy to sort out, a workplace to find, ingredients to select, the recipes of the cookies to invent and try out and a whole new identity to build.  
Jacopo underlines how Frolla wouldn't have been possible without the many supporters, near and far, that helped the company grow in so little time. There was the first crowdfunding in 2017 that supported the creation of a real company. Then came Gianni, with his famous "Pasticceria Lombardi" in Osimo, that gifted Frolla with new recipes and his know-how. Then came also Italo, that donated the workshop and the machinery for free. The main ingredients were selected among local sources, making the cookies a real local product. And many more helped in the creation of the logo, the merchandising, the packaging and everything that is behind a full working micro biscuit factory.
Being a social co-operative, Frolla must invest everything they earn in a new project within the year. And that is how in May 2018, the workshop and the selling point were all set up. In March 2019, the "Diversamente bar" (Differently-bar) was opened. In 2020 COVID struck, but that didn't scare our brave bakers and entrepreneurs that tried to open an e-commerce platform. It turned out to be the best idea they could ever have: these days 30% of their selling comes from the online purchases. In 2021 they inaugurated a delivery van, that managed to bring the, at this point, very famous cookies all around Le Marche.
2021 was also the year of the greatest achievement and recognition: Frolla won the European Citizen's Prize among many other valuable contenders. The whole team flew to Bruxelles in May 2022 (in 2021 there were still restrictions due to Covid-19, and only Jacopo managed to go) to live a real dream.
2022 has brought many new projects in these guys' hands. They created a master to help people set up a start-up following Frolla awareness-raising activities and example. In September, just some days after the terrible flood that hit Le Marche, they created a new cookie "Briciole" (crumbles) that raised 10.000€ to be donated to the people in need.
And yet Frolla never stops dreaming! Apart from big collabs for Christmas and private events, the next project involves chocolate. They have indeed a very small workshop in which they already prepare chocolate-based pastries, but need a new machine to prepare even more products (such as Easter Chocolate eggs, chocolate bars and many more).
Here is the crowdfunding link, if you would like to help them out. https://sostieni.link/32036
If you drive by Osimo, you can find the "Diversamente Bar" open with these timings: from Tuesday to Sunday 8.00 to 12.00 and from Tuesday to Friday 15.00 to 18.00.
Otherwise, the whole e-commerce platform can tempt you with all of their delicious cookies.
Check here their website: https://frollalab.it/shop/