Once again, following my family tradition, we are visiting a new presepe this year. We have seen many, many, many of them. Big, small, a collection, mechanized, re-enacted… but this one beats them all.
I am talking about the Exhibition of artistic nativity scenes, curated by Andrea Pistolesi, by the "Amici del Presepe" association in Monte San Giusto. This thirteenth exhibition is hosted in the museum complex of Palazzo Bonafede and is 200 square meters large!
Monte San Giusto is a village where the tradition of the nativity scene is deeply rooted over the centuries: it was already widespread at the end of the 18th century by the Franciscans in the church of Santa Maria della Purità. The statues that belonged to that nativity scene have only been partially found: they are the typical figures of brightly coloured plaster from Le Marche, which, due to their majesty and beauty, attracted pilgrims from neighbouring villages.
Back to the present day! The curator and Master Andrea Pistolesi started making nativity scenes from the age of eight and today he owns a huge collection of high-quality statues, from all over Italy and beyond. However, he's not alone! He has expert collaborators, such as Cesare Ciccalè, Gilberto Pistolesi, a lady from Catania that makes all the vegetables and fruits in wax, and Stefano Renzi that is responsible for the technical preparation of the lights and movements. Even at the entrance there is a special mechanism for the generous visitors. You can watch the video I made, even though it is definitely worth it to go and see it in person!
The collection includes many different large and small artistic nativity scenes. The first ones in the corridor portray in small detail scenes of agricultural life in Le Marche, between 1950 and 1960.
I have seen many mechanized nativity scenes, but never have I seen a night-movement (a man rolling in his bed sheets), or the Virgin Mary kissing baby Jesus, or even a real TV screen with real 60s-TV Programmes on! I had to look and re-look at every details, and I am not even sure I caught them all!
Next to this, there is the 2016 nativity scene over ten meters long and with more than thirty movements.In the last room there are several large and small nativity scenes, even coming from Matera.
But that's not all, because in Piazza Aldo Moro in Monte San Giusto, in addition to the lights and the classic Christmas tree, there is a monumental nativity scene with the "Fontanini" statues from the classic Christmas Film Home Alone.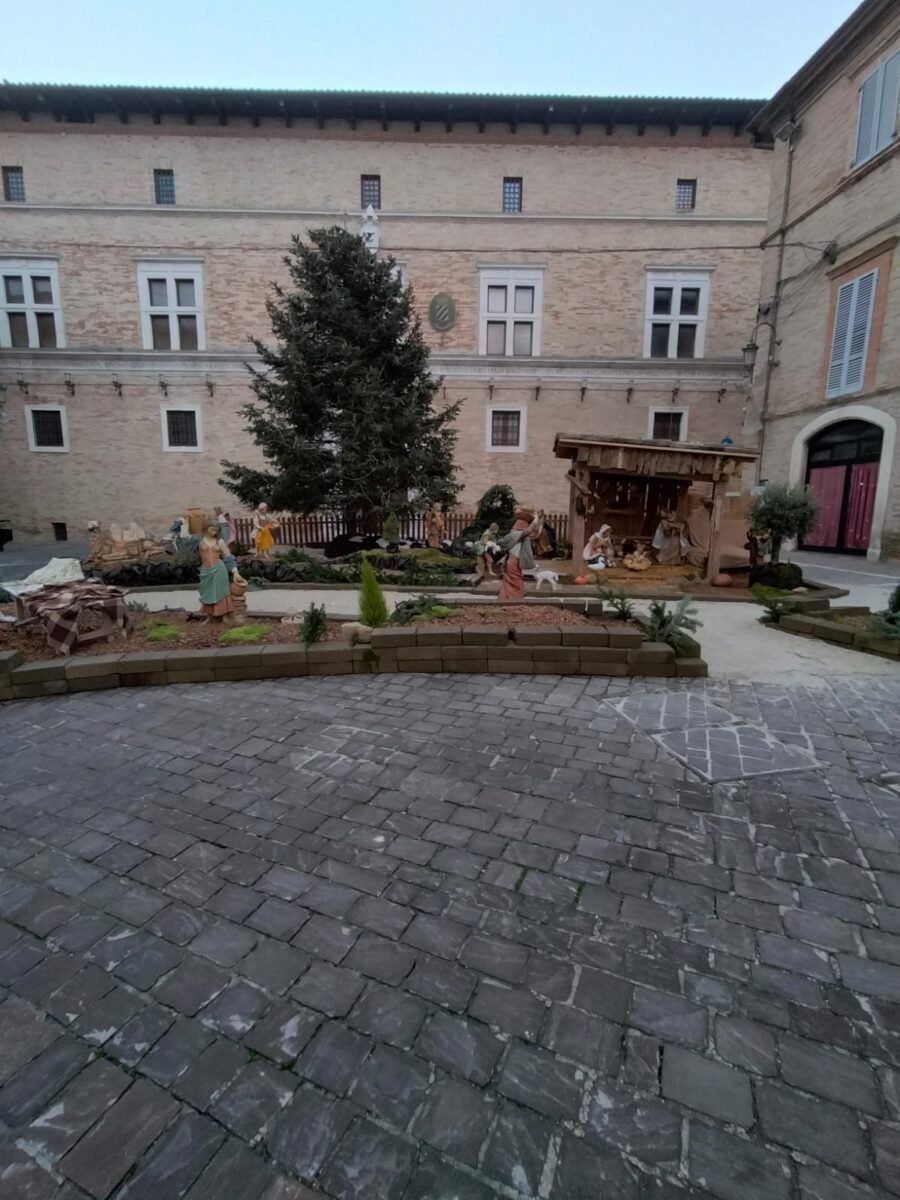 And if so many nativity scenes are still not enough, you can visit another exhibition by Andrea Pistolesi in Corridonia. Here, in the beautiful Liberty-styled building, the nativity scenes come from everywhere. There are some from Naples, South Italy and even Spain!
The exhibition in Monte San Giusto will be open everyday until 8th January 2023 (10-13 and 15.30-19.30) and then on weekends until 29th January 2023. It is possible to visit it also throughout the year on request (calling +39 3207092549)

In Corridonia the exhibition will be open until 8th January, on Saturday and Sunday from 10 to 12.30 and from 15.30 to 19.30, and on weekdays from from 15.30 to 19.30