Is there anywhere in the world that doesn't know about Saint Valentine? I think there isn't. Although the stories, discussions and episoded around the Saint's life are many and sometime even contradictory. If we talk about his relics, of course everyone wants to own them! (The same that happened with Saint Romualdo, that we discussed in our latest post). The Umbrian community of Terni claims to have the relics of Valentine, as he was still bishop there when he died. He would die a martyr's death in Rome on February 14, 347 after which his body was buried in Terni.

However, last year, we accidentally ended up in the northern Marchigian municipality of Sassocorvaro, beautifully situated on a rock.
This 15th century fortified castle is really the symbol of this town.
Strolling through the alleys, we came across the 18th century Oratorio della SS Trinità (of the Holy Trinity), where a sign stated that relics of Saint Valentine were located here.
That day the building turned out to be closed, but I still managed to take some pictures of the inside. Above the altar I noticed the reliquary.
After some research, it turns out that on February 14, the day of lovers and of this saint, there is a blessing of couples at 7:30 pm in this house of prayer.
This year, Sassocorvaro is even hosting a candlelit Saint Valentine dinner in the vaulted cellars of the fortified castle of the Rocca Ubaldinesi. More information about this can be found in this article.
This oratory was founded in 1722, only to receive some relics five years later, including those of Saint Valentine.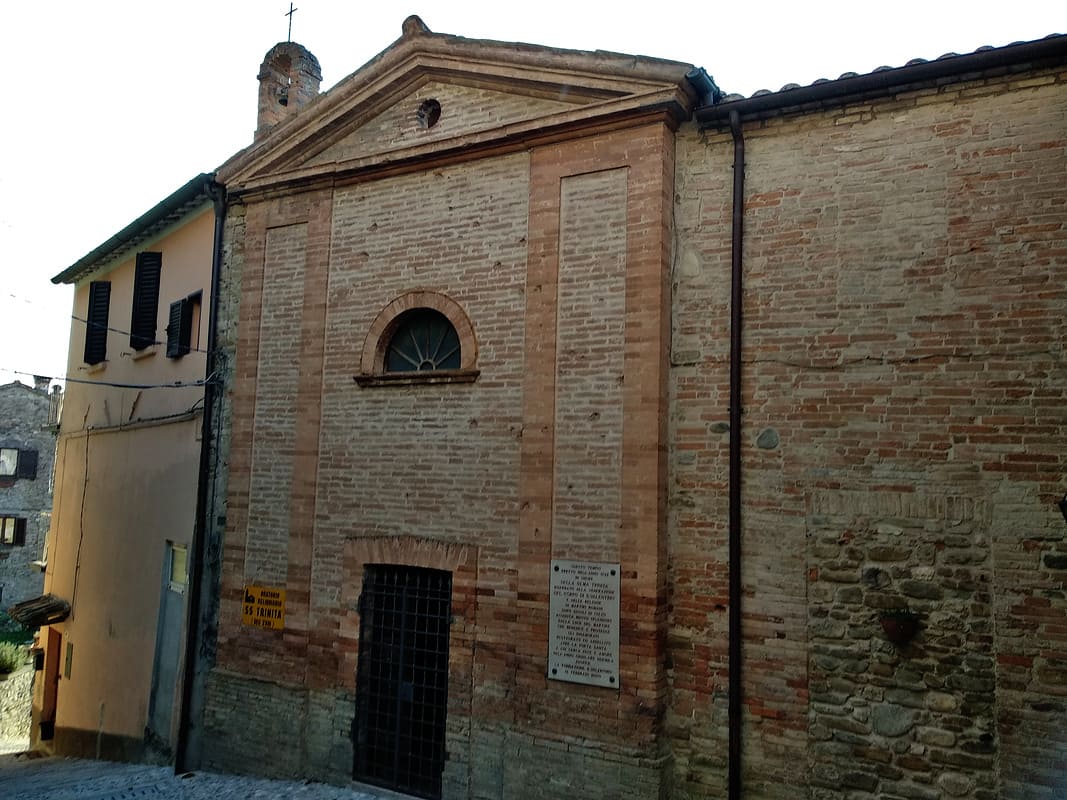 The relics in Sassocorvaro, including a skull, are said to have come from the Roman catacomb Calepodio during the 18th century. They were delivered with all kinds of certificates.

Now in the 3rd century AD, so a hundred years earlier than the Valentine from Terni, there would have been a priest in Rome with the name Valentine. Maybe the two got confused? The discussions continue and in Sassocorvaro they are 100% convinced that they possess the skull of the real Valentine of the lovers. It is always surprising how, even in modern times, relics of famous saints still cause discussions but also generate income…

In any case, a visit to Sassocorvaro is worthwhile, a municipality that we will definitely visit to write an article about it!
It remains difficult to find out the exact truth, as there was a real trade in relics for centuries. The thing is that, if we believe in all these stories, some bodies of saints should have had a total of 5 arms and 7 legs.