Spring time, asparagus time!
Regardless of whether you prefer the green, purple or white ones, they taste all delicious. In Le Marche you can find the wild growing green variety, that appears in mid-April, early May. We are perfectly on time to have a post on that, then!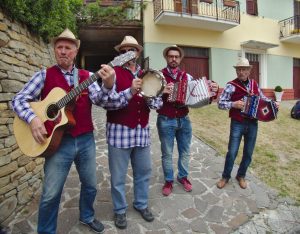 Along with other wild growing vegetables, if you are not a really seeker, it's better to join a guided asparagus walk, and that is what Isabelle did on the 1st of May. On the annual recurrence of "Sagra dell'Asparago di Montagna" in Avacelli, one of the 9 villages in Arcevia area, a morning guided tour usually helps the inexpert seekers to find this precious vegetable. In the evening you can then eat tagliatelle with wild asparagus. As every proper Sagra, everything is accompanied by music and other local products. Sagra are the queen celebration of gastronomy, and le Marche can boast a long tradition of them!

But back to the tour! The experienced nature guide was Sabrina Cesaretti, who masters an extensive botanical knowledge. To go with her in the woods means to know the asparagus plant, asparagus acutifolius, and to recognize it from the cultivated ornamental asparagus.
Once you find the plant, it's time for the search for the shoot. It is preferable to cut it off at the base, so that new shoots will emerge again ready to be found next year 😉 . Better said than done! The trick is to practice your eye in discovering those shoots, especially because they rarely grow nicely along the forest path: often you have to perform breaknecks to harvest such a shoot at all.
The reward is big, because with a nice bundle you can prepare simple but tasty dishes. Have you ever heard of risotto with asparagus? Yummy! Because these asparagus shoots are thin, they have more aromas than the cultivated varieties. Moreover, an excellent spring diet for those who like to purify their body! It is not complicated, you do not have to peel them and that saves much time. Simply wash them, cut them into pieces and then process in an omelette or bake in oil and do that with the risotto or tagliatelle. Done.
We would like to describe the walk with Sabrina (we'll do in our next post, promise) but tagliatelle are caaaaalliiiiiing
Buon appetito!