Nature all around us is changing its colour, it's that time of the year again: autumn!! Indeed, you can now find chestnuts in the shops, the truffle festivals are on and a week ago Isabelle, Elke and I were offered a vin cotto, a specialty of Loro Piceno (that's a new idea for another post!)
This means that the cuisine of our local restaurants is changing and adapting to the season, as well. That's where the restaurant "Le Copertelle" in Serra San Quirico is playing a crucial role.
As the name suggests, it is located in the center of the village under the "Copertelle": the old covered sheltered walkway typical of Serra San Quirico dating back to Lombard times. Just under these copertelle, protected from wind and weather, you can sit at rustic wooden tables and enjoy the dishes that are so typical of the area.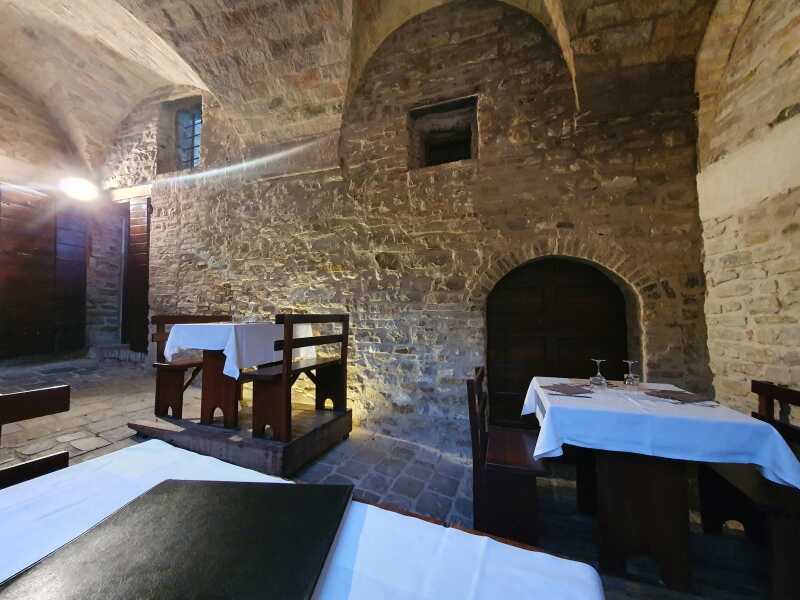 Serra San Quirico is right on the edge of the regional park "Parco Naturale Regionale Gola dell Rossa" and is surrounded by nature. Accordingly, there are mainly regional products and ingredients from the area on the menu. Some are seasonal dishes that are not always available, such as crayfish or fresh mushrooms or local herbs. There is always wild boar on the menu, because there are so many in Le Marche (dare I say too many? Look at these pictures Elke took directly from her garden).
Here are some examples of the typical specialties on the restaurant's menu:
Gnocchi al Pecorino di Fossa: homemade gnocchi (here almost all pasta is homemade) with a pecorino that has matured in acave. Not everyone likes the strong aroma, but I find it delicious!
Tagliatelle con funghi porcini – noodles with porcini mushrooms, very typical of the mountain regions of Italy and Le Marche
Strozzapreti ai Funghi – short twisted noodles without egg, with mushrooms (no porcini mushrooms) from the nearby Monte Murano
Penne di farro con la sapa e noci – short spelled noodles with a sauce made from boiled grape must and nuts. We used sapa in one of Mamma Graziella's recipe some time ago, do you remember? It was the cavallucci. What's more, we also talked about the sapa when we asked Cristiano Dellabella to tell us more about the "old ice" of the past
Pappardelle – particularly wide ribbon noodles – with a goose, wild boar or lamb sauce
Cinghiale del Parco – ragout of wild boar from the park in a red wine sauce from Monte Conero
Coniglio con finocchio selvatico e olive – rabbit with olives and the typical wild fennel herb that you can find everywhere here.
All kinds of dishes with truffles from the area: on slices of bread (crostini), as omelets (frittatina), on pasta (gnocchi, ravioli), or on meat (filetto and tagliata).
Everything is local, but there is something for everyone: from vegetarian cheese and mushroom specialties to typical rustic meat dishes. Have you heard a tummy rumbling? That was mine 🙂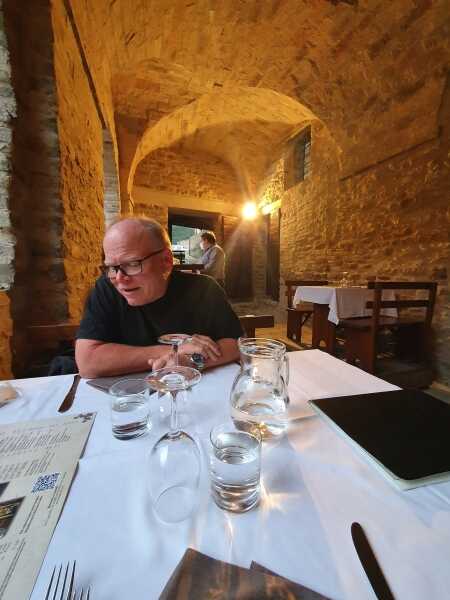 Perhaps to mention that there are no soft drinks like cola. And the restaurant rooms are more for nostalgia fans, because the interior design seems to have existed for a long time.
But it is all the more beautiful outside under the covered walkways or on the terrace with a view of the mountains of the regional park. And it's cheap too!
Here is the website of the restaurant. The menu card is also available to download in German and English and you can reserve a table directly on the website.
If you go there, you can combine it with a visit to the Gola Rossa park, the Frasassi caves or the beautiful village of Serra San Quirico and its Museum Complex consisting of three unique museums and Chiesa di Santa Lucia.