One of my 2021 resolutions was to discover new artisans in our region and to give them all the (earned) publicity they deserve. And here we are with Marco Quacquarini, the creative eclectic young carpenter of Fantawood. It was thanks to Federico from Marchecraft that we got to know Marco and his wooden toys' workshops. Although the wooden toys are just a teeny tiny part of his job!
The visit to Marco's Fantawood was one of the rare occasions in which our blogger team could gather together: Isabelle, Elke and I, and even our loyal German reader Ursel. To be honest, we expected the joinery to be smaller, but to our surprise, the sign outside the workshop said Fantawood 1936 … several generations already?
Upon entering we met Marco, that is definitely too young to be working here since 1936 😛 . And finally we discovered the story: Marco's grandfather is the original owner of the workshop, the carpenter that started the wood tradition and sadly recently passed away, after having retired in 1993. Marco's grandfather is still very present in the workshop: an article about him and Marco is framed on the wall, but also all kinds of tools that Marco himself no longer uses are still here! They are now either too heavy to handle or too old compared to modern, fast and reliable tools.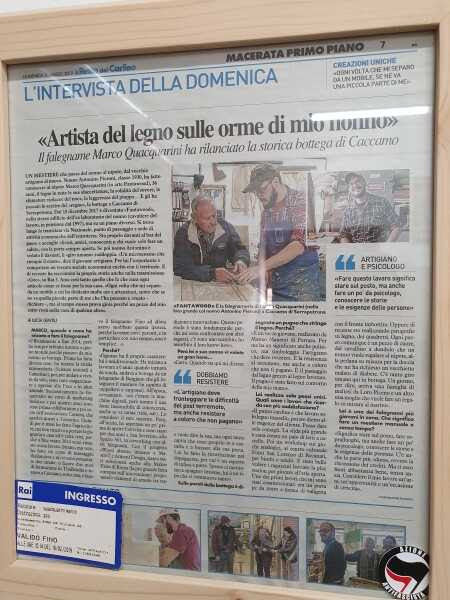 Marco offered us some chairs and immediately started with his life story, which sounded a bit more complicated than a classic "grandson takes over the carpentry from grandpa".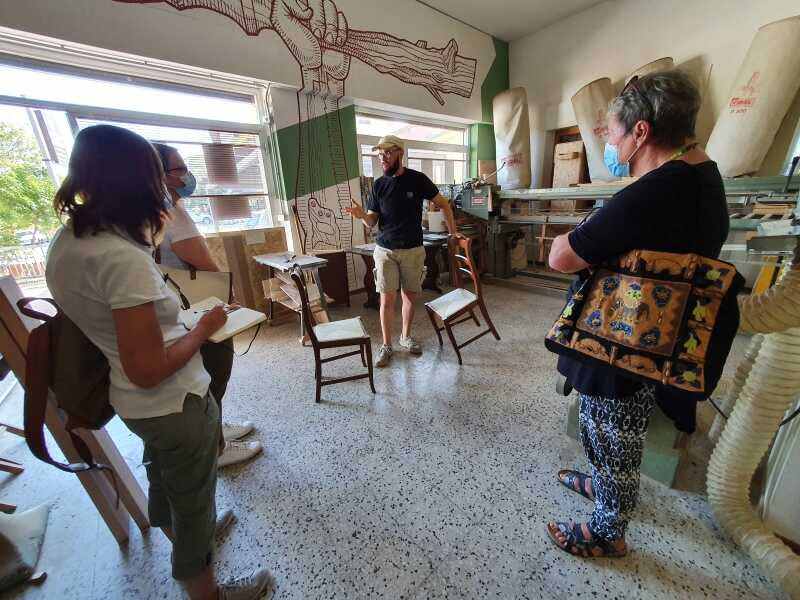 His grandfather was born in 1930 and from the age of 6 (1936) he was apprenticed to a craftsman after lunch and after school hours. That meant a lot at the time, but it was for free, of course. What was learned was actually more important than money itself because you learned a profession that allowed you to earn your own living later on. His mother often brought gifts to thank that craftsman, indeed.
Grandpa became independent, married and had a daughter who went into leatherworking. In the meantime there was a grandson Marco, who often played in his grandfather's studio, but initially showed no interest in continuing the profession. He would therefore first try everything from farmer to factory worker, from servant in a museum to Thai masseur. However, in 2018 he decided to follow in his grandfather's footsteps and apprenticed in San Severino Marche with friends of his. Why not with his grandfather? Well, that was no longer up to date with modern techniques and it would have resulted in too many discussions. Slowly he started his own business and took over several machines from his grandfather. They were still of a very good quality and still functioned without problems.
Due to his various activities from the past, he quickly built up a clientele. What are his specialties? He said everything except doors and windows. In any case, he turned out to be very creative and what he does not know how to do is not even a problem for him: he can soon find out and reproduce it. He showed us various creations, from original bookshelves to tables to children's toys. You can see more on his website.
In addition, he's experimenting with different materials, such as mixing resin and wood. A beautiful lampshade served as an example, he collected the resin himself.
He also learned new techniques, including one from Japan where the wood needs to be burned gently…
In the meantime, of course, he has bought some more modern equipment and made a particularly ingenious extraction construction, the constant point of discussion between him and his grandfather. But Marco always saw his grandfather standing in the shavings up to his ankles and especially inhaling a lot of wood dust. That is really a thing of the past now.
His collaboration with Marchecraft consists of offering workshops related to making a wooden game. More information about this on the Marchecraft website.
He gets his inspiration for it from just a toy book and had already made certain projects with schools.
Enough chatter, now Marco wanted to start some machines to show us the practical method: from mechanical planing to turning and sanding a piece of wood.
His grandfather fetched the wood nearby and transported it by mule or even by public bus. Fortunately, Marco no longer has to do that; it is delivered to him. He orders the chestnut wood from Calabria and the other varieties from Northern Europe and/or the Balkans. He also recovers wood, such as the wooden oak roof beams, from a house that was damaged in the last earthquake, which he processed into planks for a parquet floor.
His various friends helped him to make a nice logo and a nice drawing in his studio.
This FW turns out to be his signature for his finished products. Pyrotechnically, (burnt into the wood) he applies it. A demonstration followed for us:
However, we were not allowed to leave his studio before tasting his own vino cotto, the specialty of Loro Piceno in particular. The grapes are pressed twice, the juice is then boiled and stored until it becomes wine. It tasted super (as my very happy face is showing)!
Anyone who wants to visit Marco and his Fantawood or who has an assignment for him can do so in Caccamo, a sub-municipality of Serrapetrona. Do you remember? We talked about it for the red sparkling wine or Vernaccia spumante.
Do you want to have your hands on in a workshop? Then contact Marchecraft.
In any case, we were happy to have met a young version of Geppetto!