Looking for a beach holiday with a pinch of culture? Then you should consider San Benedetto del Tronto, the palm beach of Le Marche. Here, since 2012, you can have a walk on the pier while observing the beautiful sculpture of MAM or Museo d'Arte Sul Mare (art museum by the sea).
205 works of art on display including 179 sculptures and 23 murals.
In addition, 3 other works by the artists Mario Lupo (1986), Genti Tavanxhiu (2006) and Giuseppe Straccia (2010-2018) have been displayed on this pier.
Every year, works of art are added to the Festival dell' Arte sul Mare (Art Festival at Sea), with participants from all over the world!
Last year in September Isabelle and Erik decided to take a look at this open-air museum but unfortunately the weather wasn't so nice with them. On a sunny day, the pictures must look fabulous!
Just before you reach the pier, some artifacts already catch your eye:
Lavorare, lavorare, lavorare, preferisco il rumore del mare, means "to work, work ,work I prefer the sound of the sea". The Piedmontese Ugo Nespolo realized this work in 1998, using a sentence by the poet Dino Campana (1913), although the original said Fabricare, fabricare, fabricare. An invitation to find a balance between work and leisure: a perfect catchphrase in a place like San Benedetto del Tronto!
Further on, a huge bow of a ship called Geneviève stands out. This would have served from 1978 to 2006 to fish for tuna, in 2007 it became a training ship and then languished for years. In the end, the bow ended up as a symbol of the centuries-long fishing tradition in San Benedetto.

It was inaugurated in 2020, and at nights the names of other fishing boats are projected on the sides.
The museum consisted for the first part of an approx. 600 m long row of boulders that had been worked by numerous artists. One even more beautiful than the other. Below you can have a sneak peek of some of them!
Sculptors all over the world did indeed participate, as we read it on the accompanying signs.
Remarkable the presence of some cats, we found that some individuals created a kind of cat shelter and fed them regularly.
The most iconic statue is probably the one dedicated to the famous seagull Jonathan Livingston, beautifully narrated by Richard Bach and later filmed with the well-known music of Neil Diamond.
However, the monumental work of Giuseppe Straccia is worth a closer look. It starts with the Madonna del Mare in memory of all lives lost at sea.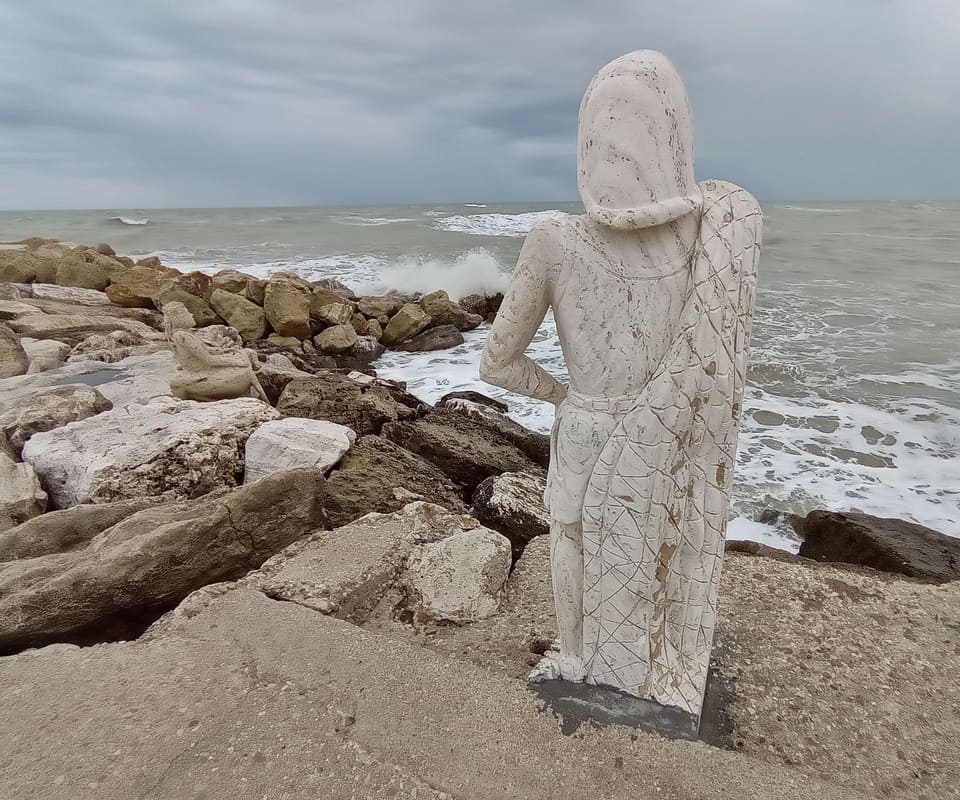 Years after years new scultpures were added, creating a whole nativity scene in the end.
Then it's time for the travertine monument of Genti Tavanxhiu. He made this sculpture in honor of Don Francesco Sciochetti, who, in addition to his help during a cholera epidemic, took care of the first motorized fishing boat in Italy, in San Benedetto!
There is also a whole area of murales and wall paintings.
The pier ended at a small lighthouse, beautifully integrated in this art environment.
Highly recommended if, for example, you also want to get your children walking…a walk with a purpose!
From June, 4 to June,11 of 2022, the art festival will again take place in San Benedetto where the sculptors and painters can be seen live. Naturally, conferences and lectures are also organised. The program is on the Facebook page, or on the website (also in English).