We haven't talked much about bikes and mountain bikes tracks in our region…it was about time! In our team, we have Elke's husband Otto who is a real mtb lover. Elke asked about a nice, rather sporty track, and he recommended one of his favorite mountain bike tours, which leads in the middle of le Marche via Poggio San Romualdo, Pian dell'Elmo, Elcito and Cingoli Lake.
Why does he like it so much? It leads through great landscapes with wonderful views, it is largely car-free (which isn't so common, sadly) and there are four beautiful places for a leisurely rest.
With an altitude of 1700 meters over 70 km, however, it requires a good level of fitness and it is only recommended for trained cyclists. Despite this drop, it's easy to drive for it is mainly on asphalt and paved paths.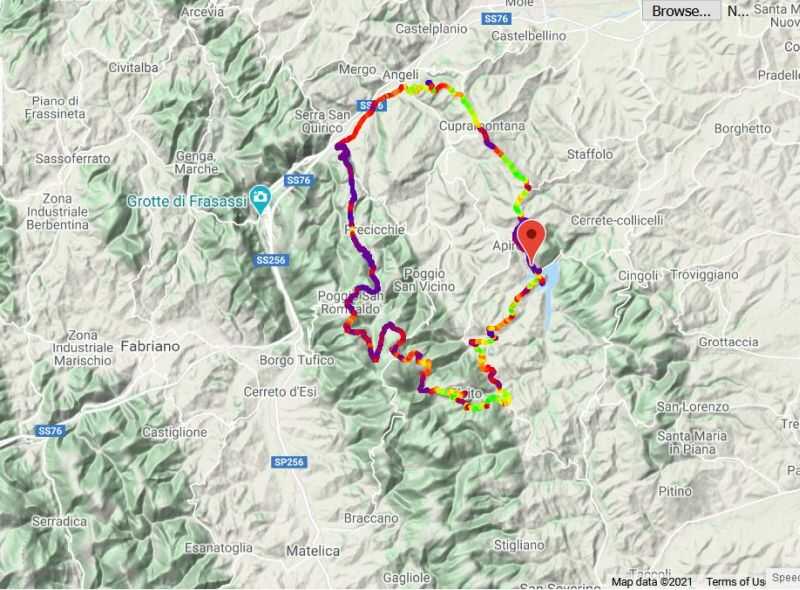 As a recreational athlete, our Elke let Otto go alone and preferred to come to the intermediate destinations by car to take photos. I must say they look really professional, and Otto as well looks like during a Grand Tour! He must have felt surrounded by paparazzi!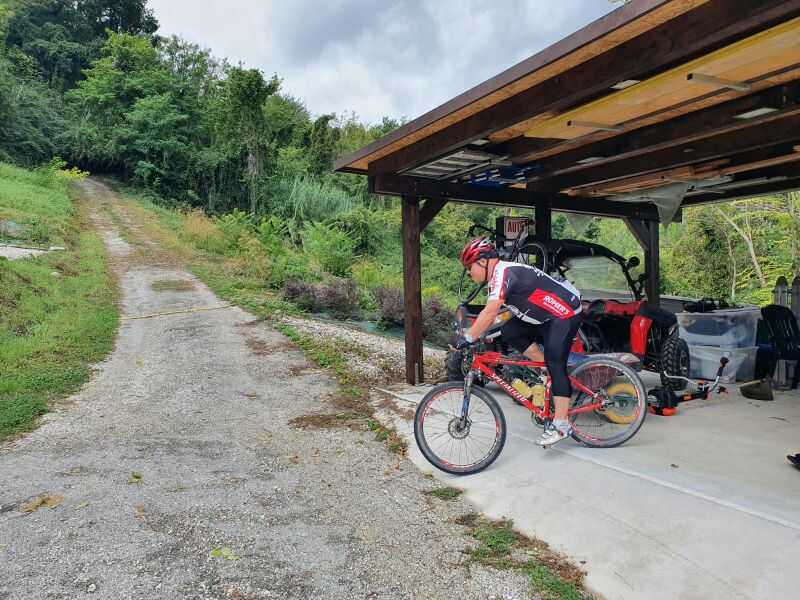 The starting point is below the village of Poggio Cupro near Cupramontana. The road is a serpentine road with some 180° curves down to the Esino valley. It is the same descent that the extreme athlete of downhill challenge at the annual Verdicchio Race.
The route now continues on low-traffic side streets past the Abbazia di Sant'Elena and a long irrigation canal until it ends at Serra San Quirico at a T-shaped intersection, where we keep to the left. From here, the first and, at almost 800 meters, the largest ascent of the tour leads over 13 numbered serpentines to the first stop, Poggio San Romualdo. The road is paved, but there is very little traffic, so you can enjoy the beautiful views.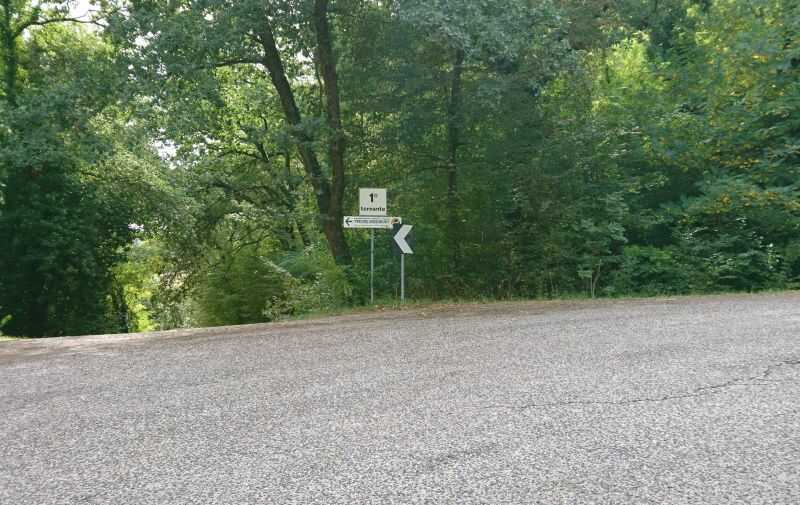 If you want, you can take a break and treat yourself in the traditional restaurant "Norma" before moving on.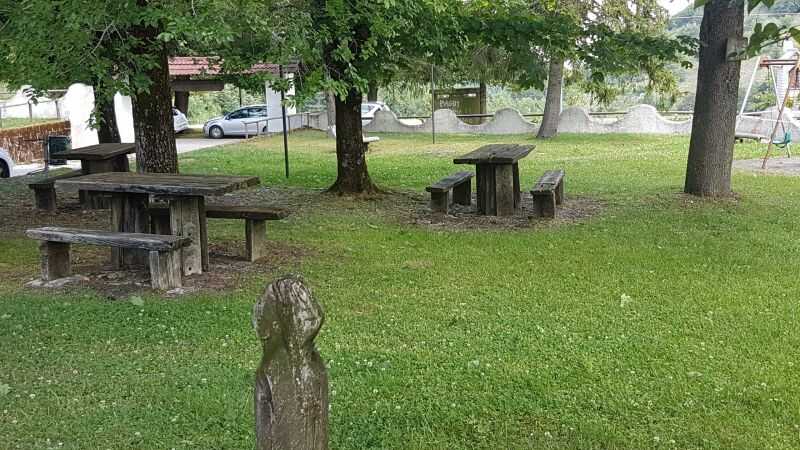 Now that you are ready to start again over gravel, small paths and a short piece of single trail (path), the road tends to go downhill for about 3.5 km and then up again on a wide gravel path to Pian dell'Elmo. This plateau is a popular starting point for hikes around Monte San Vicino. When Elke arrived at the plateau, Otto was already there waiting for her! They both enjoyed a beer in the friendly bar at "Elmo Camping".
Otto swings back on his bike and initially continues uphill on asphalt towards Elcito and after 1 km turns left onto a gravel path that leads him up and down to Elcito. Here Elke and Otto meet again at the bar "Il Cantuccio". Since it was during the weekend, there were various day trippers, but the area around it is extensive and everyone can find their own spot. The lunch consisted in a homemade crescia and a beer outside. The toilet house is in the middle of the meadow! This totally looks like the toilets I used to look for during my hike in the middle of nowhere in Norway!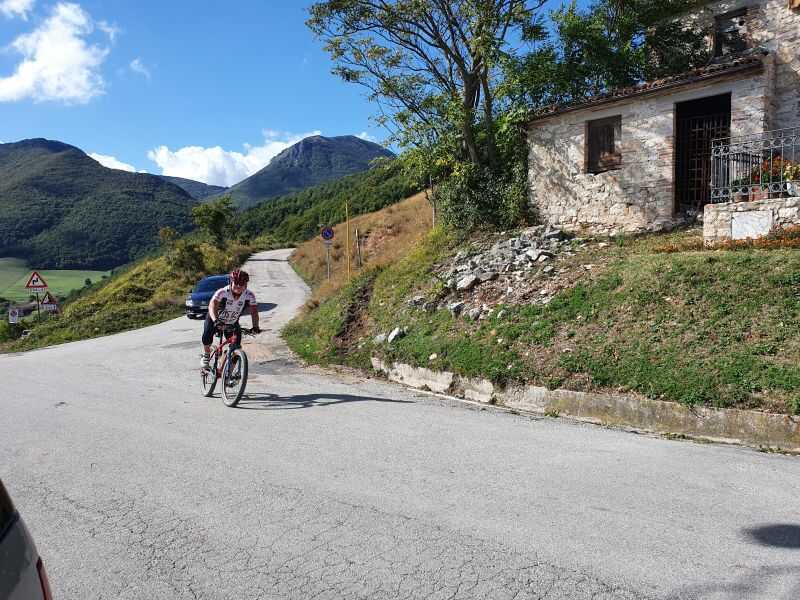 Behind Elcito the path leads us over asphalt towards Castel S. Pietro. Behind it they turned left onto the SP2 (towards Apiro). After about 5.5 km, just before the village of Frontale, they turned right onto a so-called strada bianca – white road, which consists partly of gravel and partly of asphalt. It leads us straight to Lago di Cingoli (also: Lago di Castreccioni) and to Elke and Otto's last stop, the Popeye Bay.
In summer you can enjoy a whole day swimming, sunbathing and taking a boat ride here, and even then it is less "bustling" than at the sea.
Otto starts towards Apiro for the last stage, which from now on only leads over asphalt and, depending on the time of day, can be a bit more traveled. Before Apiro he takes the turn to Cupramontana and also keeps at the next T-junction in the direction of Cupramontana, past the Abbazia Beato Angelo and through Cupramontana through the direction of Poggio Cupro to the starting point.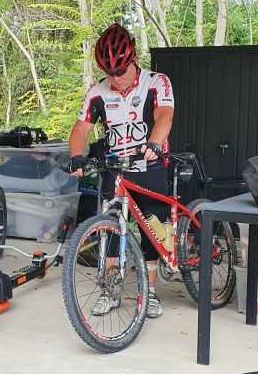 Some useful tips and the link to the GPX track:
The route is easy to drive from spring to autumn. In summer it is sunnier, but especially in the mountains it is a bit cooler and easy to bear.
Theoretically, the route can also be traveled with an eMTB, but there could be problems with the range of the battery due to the many meters in altitude (no guarantee!).
If you want to stop off on the way, you should note: the restaurants may not open until later in the year, usually sometime after Easter. When they close seasonally in autumn depends heavily on the weather. Norma in Poggio San Romualdo and Il Brigante in Elcito are usually only open on weekends, while the "Elmo Camping" bar and the one in Popeye Bay are also open on weekdays.