After a very long time that the Ecco Le Marche team hadn't gathered together, in May we finally met at Elke's place aka Casa Bambù, and it turned out to be a beautiful afternoon! It was so special because Nonna Franca and Mamma Graziella were also there: the team was all complete!
After some months, we wanted to replicate the gathering but this time with a special guest, dare I say, famous special guest! Indeed, Silvia was visiting Elke for the Summer and to my surprise, she is the co-blogger of LeckereKekse , a German blog about recipes, books, films and much more! This name reminded me of something…Eureka! I read a Christmas recipe on this blog when I was missing my German life back in Italy! What a coincidence!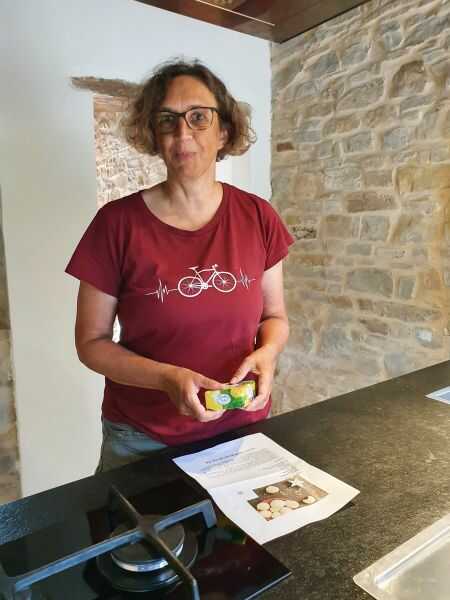 I couldn't say no to this beautiful occasion also because Silvia had a great idea: why not baking something together? We invited Mamma Graziella and Nonna Franca to join the party and the afternoon went by among laughters, wine (although non-alcoholic – we discovered it afterwards) – peeking guests (look at Otto, Elke's husband), dough tasting and three different kinds of biscuits in the making! What a beautiful afternoon!
Elke offered her well-equipped kitchen, Silvia, Mamma Graziella and Nonna Franca their recipes and know-how, Isabelle was the official photographer and I was the camera-woman. The other guests had the biggest and greatest responsability: they had to taste all the biscuits!
Since Silvia and Nonna Franca were baking almost at the same time, their recipes will be featured in one single video. Mamma Graziella's recipe, on the other side, was the fastest one, and we managed to record it alone.
The recipe is for the aniseed biscuits. It has two regional ingredients that you may have become familiar with by now: the aniseed and the Mistrà, the anisette liqueur. We used them also for other recipes: ciambelle di mosto for an Autumn cuisine and cicerchiata for Carnival.
Ingredients
200gr. of flour
2 whipped eggs
70gr. of sugar
25gr. of olive oil
10gr. of aniseed
20gr. by Mistrà
The procedure is very simple: mix all the ingredients and then make some finger-wide little donuts. Place them on parchment paper and bake at 200 ° until they get golden.
I know my only task was to edit a professional video, but I wanted to share with you all the fun we had that afternoon. Here's a mixture of baking / technical problems – Mamma Graziella's glasses – / Italian-German-some other languages content and an aniseed smell that it's a pity you couldn't enjoy!