Looking for a mythical place as a starting point, a slow ascent through a forest with an occasional view of a mountain, scrambling and climbing on a rocky surface and ultimately a miracle of nature as a reward? Then be sure to walk with us to the Foro degli Occhialoni, right inside the Parco della Gola della Rossa e di Frasassi.
Together with the hiking group from Cupramontana – the podisti – we opted for the long hike, i.e. departing from San Vittore di Genga, close to the caves of Frasassi. A shorter course starts in the village of Pierosara.
We followed the red / white signs route 117, straight into the forest.
Slowly the path rose, now and then we enjoyed the view of rocky mountains and of San Vittore that slowly narrowed below us.
The path left the forest for a moment and turned into a stone road along a rock wall to disappear back into the green vegetation.
A junction marked with a red and white marking on a stone made us turn right, towards our first goal Grotta del Mezzogiorno (cave of the south or of the afternoon). A small steepness and a bare mountain with several caves loomed before us!
What a dazzling view of the village of Pierosara!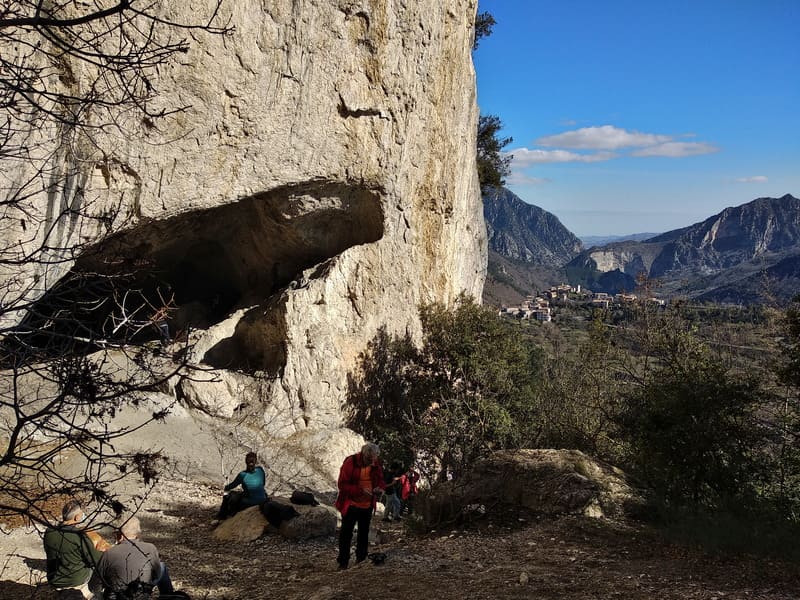 A short break before returning to the crossroads to resume the original route to the Foro degli Occhialoni. The spicy part started now, on all fours sometimes, clambering over rocks,
clinging to trees only to be rewarded afterwards; an overwhelming opening or Foro in a mountain! Not recommended for people with a fear of heights.
It was still careful to take pictures … Alpinists can climb down a rope and all kinds of climbing equipment through the hole on the other side.
We wisely decided to go back by the way we came. Descending on all fours was quite a challenge in itself.
Nature was gradually waking up from hibernation: mouse thorn (Ruscus aculeatus) and hellebores in abundance
Hungry, Thirsty? In San Vittore you will find plenty of opportunities to recover.
Haven't experienced enough adrenaline yet? Then try the adventure park along the fast-flowing river. Peace and quiet ? Visit the Romanesque San Vittore Abbey and the museum. By the way, you are close to the natural wonder of the Frasassi caves.
The walk is about 5.4 km long, requires some physical condition and sturdy walking shoes. Not suitable for small children and people who are afraid of heights. Download the route here.