November has changed its value throughout the years for me. When I was a kid I used to love the Saturdays at home, because the oven was finally back on and the kitchen was full of cakes made by Mamma Graziella . When I was in Norway, I used to escape from the November-blues, and now I enjoy it very much, being the quiet month after a very busy season.
What helps is also the rich agenda in Le Marche. Sure, it gets dark early and cold and sometimes foggy at night, but during the day it is often still very beautiful, so that it is wonderful to hike in autumnal landscapes or join a popular festival.
People like to talk about the phenomenon of the Estate di San Martino, the summer of Saint Martin, and I think that the last few years have actually always been beautiful weather around this time.
The Vendemmia, the harvest, is then over and there is a new wine, the vino novello, (my favourite, if I can be honest) to taste in many places. The olive harvest, on the other hand, is in full swing and places like the olive oil mecca of Cartoceto or Scapezzano in Senigallia celebrate olive oil festivals.
There are some festivals and events, such as in Serrapetrona, where the Appassimenti, the wineries with their very special Vernaccia sparkling wine, are opened to the public, or the various truffle festivals that pay homage to the white truffle.
Especially around Saint Martin, November 11th, there are many festivals dedicated to the saint: there are Vin Brulée (mulled wine), roasted chestnuts, polenta with duck, mushroom, salsicce or cod sauce and the sapa, the syrup made from must, that Mamma Graziella uses in many of her recipes (Check her Cavallucci, for example).
Elke and Otto went to the San Martino di Mergo Festival in 2019 and thought it was very nice, although it was quite cold and even a bit rainy.
There was traditional food…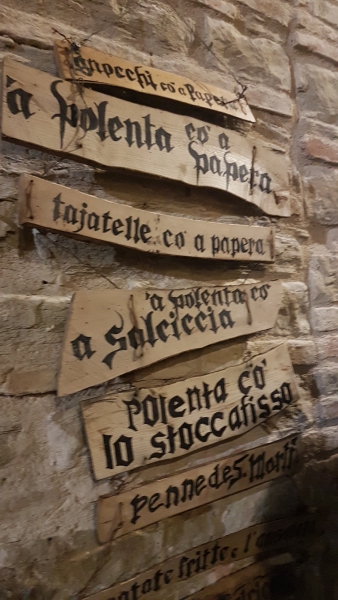 … and medieval decorations and extras:
And afterwards some good live music:
Also this year there are some San Martino festivals in Le Marche on Saint Martin's weekend, here are just a few examples (keep an eye out for festivals in your area for announcements!):