It is finally back: the festivals-season in Le Marche! We have been longing the festival atmosphere, the community engagement, the full agenda and..the delicious food! Every festival is unique, indeed they also have different names: sagra, festa, fiera or palio and usually take place on weekends. Some have a long tradition, such as the Sagra dell'Uva in Cupramontana (wine festival since 1928!) or the Verdicchio festival in Staffolo, which had its 56th (!) edition in 2021. Others have only been around for a few years and some have disappeared again because there were no helpers left or because people now do other festivals.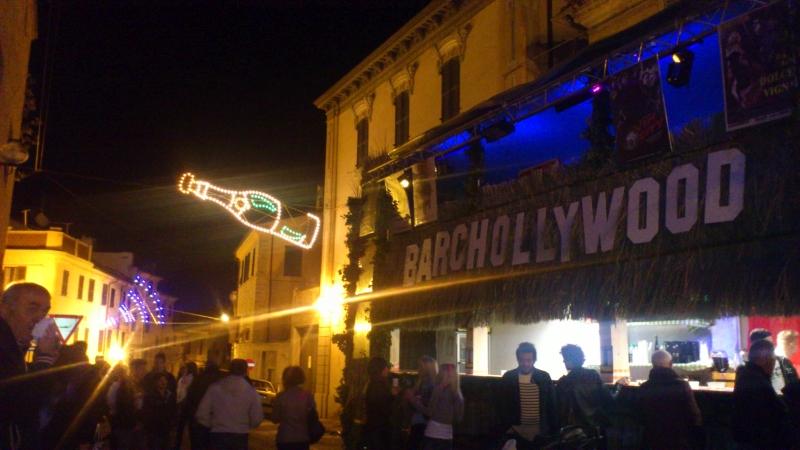 Isabelle and I both work in the tourism industry, so we rarely get to participate in the summer events. I am really sad about it, because Summer in Le Marche equals festivals everywhere! Luckily for us, Elke and her husband Otto have more time, so they recently went to the Verdicchio and Jazz Festival in Montecarotto, which has also been going on for 33 years. According to her, another great party, but less crowded than before the pandemic.
Which parties are there on this Summer in Le Marche?
The party is always based on a theme; like those around the patron saints. For example the Festa di Sant'Eleuterio in Cupramontana or the Festa di San Ciriaco in Ancona. But agriculture or crafts also serve as the theme, eg the Feste della Trebbiatura (Threshing Festival).
Others celebrate their typical regional products, such as the Sagra del Carciofo in Montelupone (artichoke festival) or the Festa del Vi' de Visciola (sour cherry wine festival) that we visited some time ago. For example, in Pergola, Amandola, Sant'Angelo in Vado they honor the truffles or hold a truffle fair (fiera). Still in other places, the crescia (flat bread made from corn flour), salsicce (fennel sausages), pizza, gelato, coniglio (rabbit), asparagi (asparagus), polenta, maccheroncini (pasta), olive all'ascolana (stuffed olives), quaglie (quail), lumache (snails), funghi porcini (ceps), pesce (fish) and so many more are the real protagonists.
In autumn it often revolves around the chestnuts and mushrooms, which are sold during the Sapori d'Autumno (the scents of autumn).
Elke and Otto were very impressed by the large polenta kettle that stood in the middle of the square at the polenta festival in Apiro a few years ago:
Others bring historical times to life and call themselves Rievocazione (reenactment) , such as the Roman festival in Fano, the Festa della Tratta in Marotta, the Cavalcata dell'Assunta in Fermo, the Palio di San Floriano in Jesi or the medieval festivals such as in Poggio Cupro or Offagna . Here the residents dress in costumes that they sew themselves or borrowed from a theater and lovingly decorate the place according to the motto.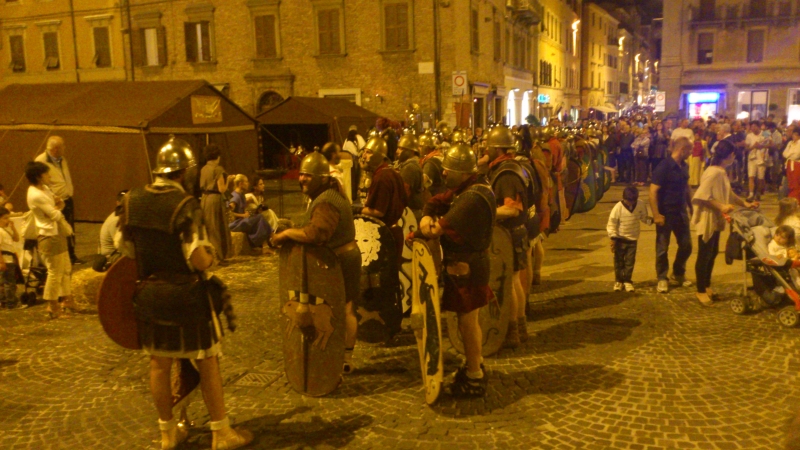 The Summer Jamboree is very popular, where all of Senigallia dances like hillbillies with petticoats and ponytails to the appropriate music.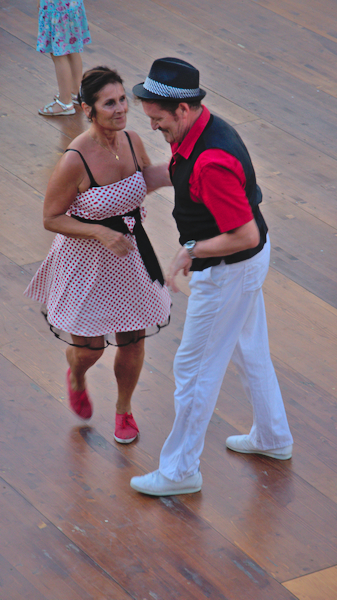 Modern themes have also made their way, such as Halloween festivals, burger and beer festivals, cannabis festivals, sangria festivals or mojito cocktail festivals.
Very late in the year, the Saint Martin (San Marti di Mergo) or olive oil festivals take place (in Senigallia and Cartoceto), which are of course very dependent on the weather. Because all the festivities take place outside.

What is there not to miss at these festivals?
Food&Drinks Stalls
In Le Marche you will always find food stalls at parties, often with long tables for the guests, where specialties from the area and good wine are served. Usually you have to pay and order in advance at a cash register. Sometimes you have to make a reservation by phone in advance.
The local associations finance themselves with the income.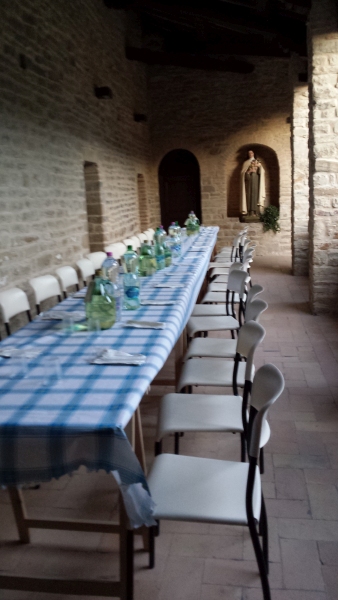 Live music and performances
Bands of different music genres (Very Italian-classics, Blues, Jazz, Cover, Rock'n'Roll, Country) perform at many festivals. In addition, there are occasional performances by folk groups, for example performing local, funny songs in the local dialect with accordions or accompanying dancers in the traditional Saltarello dance. The local brass bands are often also present at the roll call.
It is usually not limited to music, sometimes there are performances by fire eaters, belly dancers or clowns.
Processions
Especially the feasts of the patron saints also include a mass or even a procession. They take place during the day, while the music performances and food stalls are usually in the evening.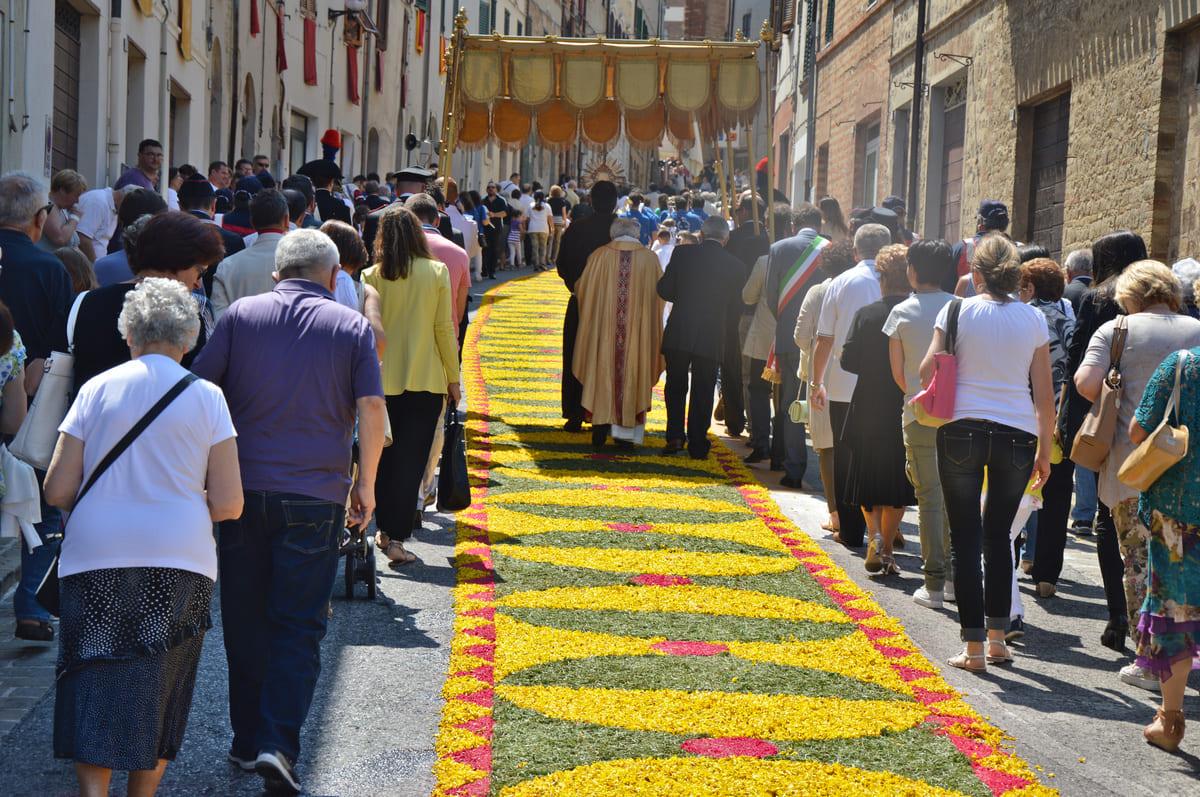 You can also sometimes experience parades with homemade floats. Usually made of papier-mâché and built by the youth of the municipalities themselves, such as at the Fano carnival or the Festa dell'Uva in Cupramontana.
Competitions
Some county fairs organize competitions where local neighborhoods compete against each other, for example in archery, wine barrel rolling or old games like the Disfida del Bracciale in Treia. The leagues are called Palio, Disfida, Gara or Giostra.
The Briscola tournaments are certainly popular, the Italian card game often played in the bars here, a very serious affair!
Booths
At some parties you will also find booths: from fairground stalls with liquorice or chocolate, to regional products, to ordinary food and non-food market stalls, everything is there. You can't count the number of stalls at the Fiera di San Settimio in Jesi!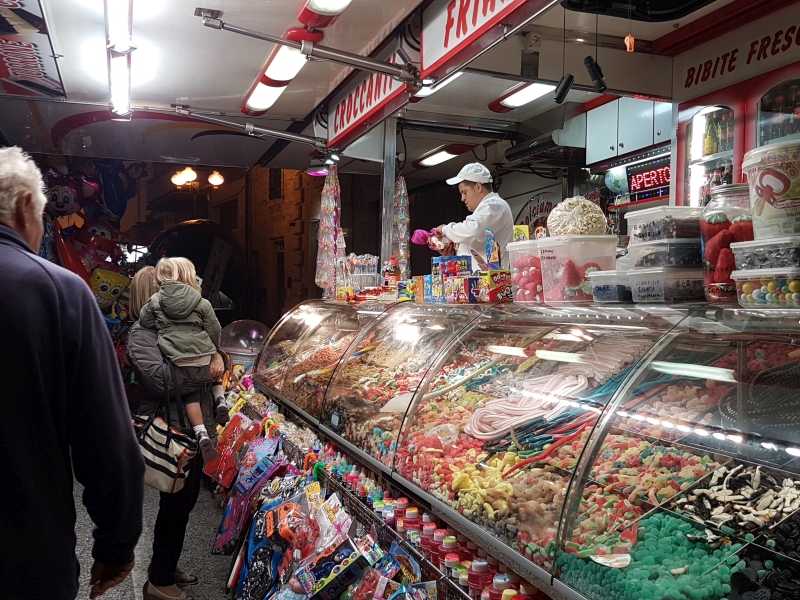 Lottery – Pesca
Lotteries (called pesca) are also offered, which are usually charitable and raffle items donated by local businesses. I grew up in such festivals and the Pesca was always a must-stop when I was a kid. I mean, we could never win that beautiful stuffed animal on display, but we could alway be happy even with a pencil on our hands!
Parking
The small towns usually offer free parking spaces. This can be a fenced off pasture or a football field. If the parking space is outside the centre, free shuttle buses are usually arranged.
Where can I find more info about these festivals?
That is the difficulty for most guests who come from outside, because one umbrella website with all events does not exist. This has to do with the fact that many municipalities plan everything last minute and can therefore never have it published on time. Sometimes the events are only announced very shortly in advance and only advertised locally.
Here are some tips for you:
Look out for posters posted in the towns and neighboring towns
Inquire at the local tourist office about what to do in the area
Check the websites or Facebook pages of either the municipalities or the Pro-Loco (associations promoting local tourism).
There are websites and facebook pages about festivals, unfortunately only in Italian, where you can search by date and region or province: viaggiesagre , marcheinfesta , restodelcarlino (newspaper) , virgilio.it (yellow pages) .
For those who don't like to search the internet, go to an edicola (newspaper kiosk or shop) and buy the booklet called corriere-proposte, which reports on festivals, but also theater performances, concerts, markets and other events in le Marche . Elke bought the summer edition of 2022 for only 3 €!
Also ask your host or hostess where you are staying, they usually know which events will take place.
Did you choose an event? Then look for the party in question on the internet, usually you will discover the detailed program a few days before.
Who visits the festivals?
The celebrations are mostly local festivities, attended by the locals. But of course everyone is welcome. Some major festivals such as the summer jamboree in Senigallia or the Sagra dell'Uva in Cupramontana also attract visitors from outside the region or even from outside Italy!
In any case, you usually have quick contact with others, especially if you speak a little bit of Italian!
Buone feste nelle Marche !!!